Ford Mustang 1965 Hidden Parts Location NFS Payback Derelicts Cars
Mustang 1965, the first generation car by Ford that created a new class of automobiles – the pony car. Need for Speed Payback has this car under the hidden category. You will have to participate in Graveyard Shift Sprint Races. These are Level 130 races, after winning in all the races you will have to defeat the leader La Catrina.
Ford Mustang 1965 Hidden Parts Location
You can pick Derelict Project to track down the parts and locate clues. You will have to explore the map to get the exact locations which can be time-consuming. After getting all the parts you will be able to drive those cars, and you will also be given a choice to turn them into one of the five car classes. Derelicts car can also be upgraded that can help you to own a Super Build. Once you get all the parts get back to Garage and pick the class you want to build your new car.
Chassis Location:
Go on the above location as marked on the map, and look for a water tank, on the right side you will spot a motel, drive towards the bonfire, and you will find the Mustang 1965 Chassis. You will also see a small cutscene on car looks.
Engine Drivetrain Location:
You will have to drive towards the south-west part of the map, and spot the hilly area, you can see the item location in the image above, and to reach there you have to drive on the right circular road, which will lead you to a platform to perform a jump towards the item.
Body Parts A Location: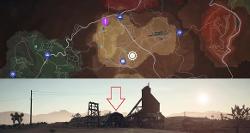 Drive to the above marker and look for a farmhouse, on the left look for Animal Barn, and drive through that, you will perform a jump over a hill that will give you the Body Part A.
Accessories:
You will be on the highway, on the above-marked location of the map, drive straight and your car with the jump over after a short distance. The part is on the left side.
Wheels & Tires:
After you reach the above marked location, look for the billboard that is the place you have to stop. Also, there will be a left arrow on the road, now turn left to drive into the desert area. Cross the mountain and take first left once you see the electric tower. It will lead you to a small sand mountain, jump over it and you will land on the other side of the mountain. You can spot the next item on the right. This completes all parts of Mustang 1965.
After getting all the parts get to the garage and build your car, you can upgrade the car to enhance its power and get the edge in the races. Click on the below cars to get hidden parts of remaining 4 hidden cars.