Halo 5: Guardians How to Get Free REQ Packs and REQ Points
REQ Packs in Halo 5 are randomized unlock system which allows you to get weapons and vehicles for use in Warzone. REQ Packs come in a wide variety, with some hitting you for special events in multiplayer, others dropping randomly, or the choice to purchase those REQ packs. This is true that the more you play the more you earn but, here is how to get free REQ Packs and REQ Points in Halo 5 Guardians.
These Requisition packs can either bought by real money or with in-game currency, but there are also a few REQ packs that can be obtained for free. There are couple of ways to get these guaranteed such as:
Head to Halo Waypoint and join a Spartan Company (it's like a clan) with 5 or more members.
To get 'Vengeance Assault Rifle Skin', Check the Halo Experience website and watch all 10 videos (5 for Master Chief, 5 for Locke).
To get 'Halo Channel Emblem' REQ pack, Download the Halo Channel app and watch any video on it.
For 'Nightfall Helmet' REQ pack, Watch the fourth episode of Halo: Nightfall on the Halo Channel app.
'Nightfall Armor' can be obtained by watching all five episodes of Halo: Nightfall on the app.
Play the game before November 7th and get an REQ pack with the Teishin Armor and Helmet
You can buy 3 packs with 7500 REQ points as you begin with the game.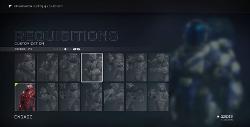 For the Master Chief Collection:
To get Mark VI Gen 1 Helmet and Armor, Complete any single player mission or multiplayer match.
To get the Mark VI Gen 1 Scarred Helmet and Armor, Finish Cairo Station in the second game.
To get the Helioskrill Helmet and Armor, Beat all campaigns on Legendary difficulty.
If you have any doubt or anything to share kindly share them below in the comment section.