Horizon Zero Dawn Walkthrough Quest: Mothers Heart, The Proving and Womb of the Mountain
Aloy kills the Sawtooth using a Tripcaster. In this part she meets tribal people and quest for Proving to be one among the tribe followed by a tragic ending.
​
Main Quest 4: Mothers Heart Walkthrough:
Meet Rost and meet High Matriarch Teersa and later meet Teb. You can equip new outfits here. You can also trade new items here for the final Proving. You will need to wander in the area and talk to a different character for this simple objective. This will be the completion of this quest
Main Quest 5: The Proving Walkthrough: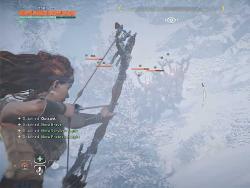 Aloy has to win the proving to be the part of the tribe. Aloy will need to hunt two of them and head towards the Brave Trail and pass the section to reach at the end of the objective. Finally, the last cut scene reveals the tribe attacked and Aloy have to kill the attackers. Kill the leader and use his machine gun against the attacker. This would be the end of Proving.
Main Quest 6: The Womb of the Mountain Walkthrough:
Aloy is in the shelter of the tribe were at the start she just needs to locate her Focus. From the room where she wakes go ahead and take a right turn, for the device. Next, find the bow and the damage focus. Doors with blue holo locks are unlocked, keep moving following the marker. Enter the room with full of candles to find the equipment.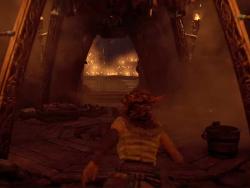 Next follow Teersa for a revealing story about Aloy, next follow her back to exit the mountain. The next objective is to meet Resh the new War Chief for exiting the place. After the cinematic, The Demon attacks the tribe and objective are to kill it with the corrupt machines. So this will be a long battle. Using fire arrows from a distance will help, but first, lay the traps with the Tripcaster at the front of the gate. To stop the corrupt machines. The weapons on the shoulder are the weak part of the demon attacks them to bring it down. Examine it after killing it to get the control device.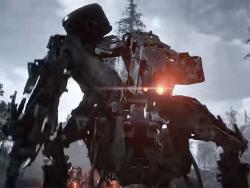 This was the end of Horizon Zero Dawn Part 2 Walkthrough, at the end Aloy gets a new device by killing the demons. She will be testing this ahead in the next quest. This You can refer to our Horizon: Zero Down Wiki Guide for more tips and guides or continues with Horizon: Zero Dawn Part 3 Walkthrough with next three quests Seeker at the Gates, War Chiefs' Trail and Revenge of the Nora.