How To Complete Missing Worker Quest In Assassin's Creed Origins
You can play Missing Work in Assassin's Creed Origins as one of the daily quest. The quest can be picked and played from any time, there is no prescribe time. You can play the quest even if you are playing the story mode or if you are just exploring the massive world of Bayek. Many had complained about not able to locate this daily quest due to lack of quest marker on the map. This is a glitch in the game. If you pick the quest "Missing Worker" which will lead you to Nomad Bazaar some of you won't be able to get the exact marker. In this guide, you can find details on this issue and how to complete the Missing Worker quest.
Missing Worker Daily Quest Can't Complete Bug
Once you are able to unlock the quest head to the Nomad Bazaar. You will have to follow the Blue Marker which will take you to the exact location and there you have to talk to the merchant to begin the quest. These markers are randomly picked, there is no specific location where you will find the merchant all the time. The location keeps on shifting according to the mission. Remember the marker location will also change if you are died in between the quest. You will have to find worker and head to the merchant where you will get a Heka Chest.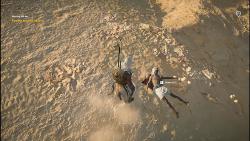 The mission has a bug, according to which when the player reaches the point of the marker the missing worker can simply disappear. This blocks the quest progress, well there is no time limit to locate the worker. It is an internal glitch where the worker can disappear before you reach. The best to fix the issue is when you begin the quest save the game. And when you reach the location and unable to spot the worker reload the save game once again. This will resolve the issue.
For more tips on the game, you can read our Assassin's Creed Origins Wiki Guide.