How to get a Custom T-Shirt in Resident Evil Zero HD Remaster
Costumes in Resident Evil Zero HD Remaster are either game designed or won in some Pre-ordered bonus. Players who had pre-ordered Resident Evil Zero HD Remaster have got some exciting add-on costumes with that. The Game Characters are perfectly awesome as expected, but if you want a different look then you have the choice to do that. This Guide will show you how to get a custom T-Shirt textures for Rebecca.
How to get a Custom T-Shirt for Rebecca
With this replacing texture Mode, you will easily be able to create a Custom T-Shirt for Rebecca. This guide is for all those players who Didn't win the T-Shirt design in pre-order. But Before we make any changes to any of the game files we would like you to take the backup first and then try this process.
How to get Pre-ordered T-Shirt set
Yes, you got it right, we will be showing you how to replace the first of the set of T-Shirts released with the pre-order. You need to download few programs to edit the T-Shirts, here is the Tool to be Downloaded.
For Image Edit, you can work with any of the image editors you are comfortable with or try out GIMP(https://steamcommunity.com/linkfilter/?url=https://www.gimp.org/downloads/) software. So let's begin with the editing and creating your own custom T-Shirts.
Step 1:
Extract the Softwares(ARCtool and ARCtool-PC-batch) you downloaded in One empty folder.
Step 2:
Open the Original T-Shirt file(emb3.arc) and the location is given below
C:\Program Files (x86)\Steam\steamapps\common\Resident Evil 0\DLC\406140\t-shirt_rebecca_20\nativePC\arc\game\em\emb3.arc
Note: Backup this Files before proceeding
Step 3:
Copy this file in the folder where your ARCtool is installed.
Step 4:
Open the "pc-rehd.bat" file with notepad from the same folder(used to convert the textures into an editable format)
Step 5:
Search for –
"arctool -rehd -texRE6 -alwayscomp -pc -txt -v 7 %1 %2 %3 %4 %5 %6 %7 %8 %9"
All we need to do is add a function which will help us get .dds texture
Step 6:
Replace that command with –
"arctool -rehd -texRE6 -alwayscomp -pc -tex -txt -v 7 %1 %2 %3 %4 %5 %6 %7 %8 %9"
Step 7:
Save the file and Close it. Drag "emb3.arc" right onto the batch file "pc-rehd.bat". This will run the decompression and conversion.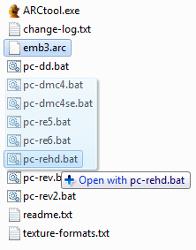 Step 8:
A New folder should be created with emb3 name and .arc file
This First part is completed where you get a folder with the hidden files which can be modified. Open the Folder to have a look at the files which are divided into 2 categories one is for the textures and other for the models. Here is the clear information about all the files in detail –
em02_00face_BM.dds – Her face
em02_00face_MM.dds – Specular Face Map
em02_00face_NM.dds – Normal Face Map
"_BM.dds" – Alters the main model's appearance
Note: Do not replace or add any content in this folder
In order to create custom T-Shirts, you must pick the right file to edit and it is "emb3_01tshirts_BM.dds" file. Open it with any of your Image editing tools and Start your creativity. once you are done save the file with .dds extension. Simply Replace the file and avoid creating new.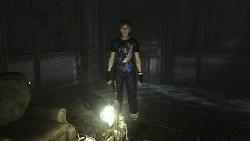 Now is the Main part where you want to replace the File with the original game. Open your ARCtool Folder and drag the "emb3" folder right onto our batch "pc-rehd.bat". You are the file is ready to go so let's open the Files destination again and replace the emb3.arc again. Start the Game and Enjoy your New Custom T-Shirt.