How to Unlock Dead Ops Arcade 2 in CoD: Black Ops 3
Dead Ops Arcade 2 is a Hidden game/ Easter Egg in Call of Duty: Black Ops 3. Treyarch has many more hidden surprises in the game along with the Supersoldiers and Zombie Mode. Here is how you'll Unlock the Dead Ops Arcade 2 in Call of Duty: Black Ops 3.
How to Unlock Dead Ops Arcade 2
Start with you normal Campaign Mission and complete the first 2 Story Missions. After Beating the Mission 2, Go to Main Menu, Open Campaign and then Go to the SafeHouse. In SafeHouse, you'll come across Data Vault, access it and Check For the Hidden Button at the Top Left corner of the Data Vault. Check the Image Below for the Highlighted Hidden button.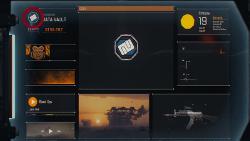 Once you click on the Hidden Button you'll access the hidden game Dead Ops Arcade 2. Watch the game's cutscene and it will unlock you the "Silverback in Black" Trophy/achievement. After the Cutscene, you'll start playing into a 2D game fighting against the waves of zombies and collecting the coins. After Every Round of Waves, you need to choose your path to continue.
Once you Complete Round 3 and follow the next path, You'll be back to the first-person view and now you need to take the zombies waves down. After Round 4 Stay on the Teleporter to Enter the next section. And Show you the Map how to continue till the end of the Game. If you wish to continue you can or else return back to the Normal Story mode.