How to Unlock the Legendary Unicorn Chomper in Plants vs. Zombies Garden Warfare 2
Plants vs. Zombies: Garden Warfare 2 is a third-person shooter and tower defense video game Plants vs Zombies: Garden Warfare 2. It is a sequel to the Garden Warfare and is back with a bang. The game allows you to Bring back your Old Characters from Garden Warfare and uses them in this game. This Guide will show you how to unlock the Legendary Unicorn Chomper and use it the Battleground.
Just like we mentioned above that the game allows the user to bring back their old characters back to the game, and you also get few Player Loyalty sticker packs if you login into the game with your same EA account and transfer you previous profile. So let's check out how to Unlock the Legendary Characters.
How to the Legendary Unicorn Chomper
The Loyalty Sticker Packs in Garden Warfare 2 are only for those players who had a good Rank in their previous Profile for example Rank above 50, 100 and so on. Unlocking high-level Sticker packs include customization items, characters and even consumables. For Those how had a very high record of Rank 313(Max Rank) are awarded the Legendary Character Unicorn Chomper.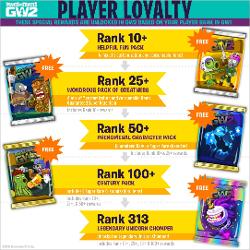 The Award is not yet over, if you still have the Previous game with you then you can try getting the level 313 and unlock the Legendary Character. The Player Loyalty Offer is valid till 2017 so take your time and max rank. This will also help you get more skills to be used in this game. Do let us know if you require a guide on how to Reach 313 Rank in Garden Warfare. Enjoy with the Legendary Unicorn Chomper.