Zelda: BoTW Island Lobster Shirt Location – Where To Find It
Zelda: Breath of the Wild Champions Ballad DLC adds Island Lobster Shirt for the fans of The Wind Walker. This means, in order to have Island Lobster Shirt in Zelda: BoTW you must purchase second DLC pack Champions Ballad, same like you need for the Ravio's Hood. After buying the DLC you will have to go to a specific Location to collect Island Lobster Shirt. In this guide, we have listed details of Island Lobster Shirt Location – where you can find it in Zelda: Breath of the Wild.
Island Lobster Shirt Location – Where To Find It
First, start the Ex Treasure: Grab of Winds and then get to the marked location on the map and Jump of the cliff and land on the Broken hut with the help of Glide. Next read the Book to get the Clue for the Merchant Hood Side Quest. For the further process, you can read the guide below to grab the item.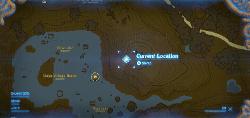 Grab of Winds Side Quest
Location: Southeast corner of the Cora Lake
How to Get: Get to the Lake Tower and jump right off from the Southeast side of the Cora Lake, then Land on the rock in the middle. You will have to create two Ice Pillars using the Cryonis, one after the other with some distance between them. Then with the help o Magnet pull the Chest out from the water and collect the Island Lobster Shirt.
Benefits of Island Lobster Shirt: The Shirt does not bring any extra benefits but will let you have some Heat Resistance. And also it make you feel proud if you a fan of The Wind Waker.
So that now you know how to get the Island Lobster Shirt from The Wind Walker. Go ahead and collect this one too. Stay tuned for more amazing updates on Zelda the Breath of Wild. You can also refer to our Legend of Zelda Breath of Wild Wiki Guide for more updates on the game.