Just Cause 3: How to get an FPS and Graphic Boost
For the Low-End PCs, players want to get the best possible graphics which their GPU can give. But some players are facing difficulty even when they have minimum system requirements, thus, we try to add up some tweaks which may help you get an FPS and Graphic Boost.
This Tweak may or may not work with everyone, just make sure you have at least minimum system requirements. IT worth giving a try as this can help you gain to boost your frames. If you are facing stuttering issue then you must not try this. Make sure you take a backup of the files which you are going to use in this process.
How to get an FPS and Graphic Boost
To Begin with the changes in-game setting, you must apply this as your default setting:
AA – OFF
VSync – OFF
Shadow Quality – High
Water Quality – Medium
Lod Radius – High
Also, turn OFF everything below shadow quality if you still facing any issue with this above setting. Next is our Borderless Tweak in which you need to download a setup file and this software will give your game the max priority. All you need to do is exit the game and open the Borderless Gaming software as Administrator and set Just Cause 3 to Favorites. Just like the Image shown below.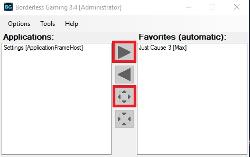 This Tweak works only with Steam Users. Launch Steam and right click "Just Cause 3", Select "Properties" then set "Launch options" as
This will help you get a boost in frames and the good thing here is that the command says /windowed but it will still provide you fullscreen experience. The Last Thing to do is to play with your GPU(Nvidia only). Here you need to Open your Nvidia Inspector(administrator) and apply the following setting.
These are the Optional Tweaks if you want some more Boost.
Offline Mode
Note: Going offline will disable your leaderboard
Step 1:
Open Control Panel and go to System and Security
Step 2:
Select Windows Firewall and go into advanced settings
Step 3:
Open Outbound Rules Tab and Click New Rule
Step 4:
A program will open, click on Next then select 'justcause3.exe' from Steam folder
Step 5:
Block connection and Exit.