Just Cause 3: Where to Find Weimaraner W3 Civilian Location Guide
Weimaraner W3 Civilian is Extremely rare SUV to be found in Just Cause 3. Many Players have started their hunt to locate and grab one to use it. This Just Cause 3 Location guide will show you where to find and get Weimaraner W3 Civilian SUV Location.
There are 3 types of Weimaraner W3 in Just Cause 3:
Medici Military – It's brown and marked with 3 white stars
Rebellion – 3 Stars with Rebel flags attached to them
Civilian – Extreme Rare and it has a Simple Paint like other cars
Where to Find Weimaraner W3 Civilian
Weimaraner W3 Civilian is a pretty well handling offroad vehicle and that is why there are hardly any found on the road. So let's begin with location guide and hunt on of the rare SUVs. Firstly you need to Fast Travel to 'Guardia Granade Pastura III' outpost. We have shared the Image below if you have any doubts with the location.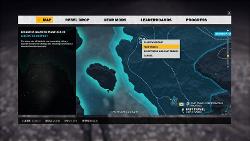 The Vehicle you looking for is (N 40 48.479, E 5 36.945) located on this island. You need to use your wingsuit to reach the island quickly. Once you reach the marked Location you will find 2-3 Weimaraners W3 at teh same location. They Usually Spawn Here so if you are out of stock you can come here and grab one anytime you want.
If you want to take this Weimaraner to one of your Garages safely then you can try this with one of your transport boats. Open the Rebel Drop and call for 'URGA HROCH' a sea vehicle. Drive the boat facing towards the land and press the primary fire/left mouse button to extend the ramp.
Then drive the car onto the boat and close the ramp. Drive it to the mainland and avoid the turbo jump. As you reached the coast, open the ramp and drive the car off the boat. Since the northern part of Insula Striate is only military/bavarium farms you need to drive some kilometers to bring it to the Garage.
You can also try moving the car with a Helicopter, but we assume you might have it unlocked yet so this is the alternative way. If you have any doubts they do let us know in the comments below.