Legendary Store Location – Assassin's Creed Origins
Once you done with the main campaign in Assassin's Creed Origins, you can go to the Legendary Store which can offer you to buy Legendary Weapons and gears based on the your current character level. Assassin's Creed Origins has many vendors around in the game, but visiting the Legendary one will offer you chances to get some high grade weapons, remember it relies on your character level also. Also, the order of items available in this shop keeps on shifting, so you can give a visit once a while. It is also the best place to visit if you want to retrieve your weapon in case you sold it like a Firesword or Jack Gaze Bow.
Where To Find Legendary Store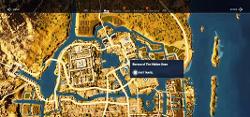 The store is located in the Memphis, you have to locate Bureau of the Hidden Ones. Refer to the location on the map above, it is also a fast travel point, so you can not only buy but you can also sell your weapons at this store.
What You Can Get At Legendary Store
If you are on Level 40 that is a maxed out level you can gain some powerful weapons in case you had not able to get them in the game quest. Weapons like Companion Shield that you get after killing the bosses also appear in this Legendary Store.
Tablet Of Knowledge
Want to earn 1000XP instantly then visit the shop and buy this tablet for 1000 Drachmas. This is good enough for those who require some XP boost to raise their character level.
New Weapons
You can visit the store to get new weapons if you have enough gold with you. You can also gather all the weapons through this store for your collection. You can try out these new weapons in the different quest.
Instant Upgrade
You can buy Weapons at the lower level through the store, and upgrade them to the max by paying around 1000 coins. In this way, you can save a lot of time in upgrades.
Contracts
You can look around the stores and get new contracts if you want to play a high-level quest. For example Assassination Contract, where you will have to kill all the Phylakes bosses in the world, or Ultimate Skill test, where you will be fighting with Duaelist in the arena. By killing these bosses you also have the chance to get some legendary weapons in the game.
So this Legendary Store can be a good location for getting the new quest or to buy new items in the game. You can also sell your weapons to get some cash. Do share what unique you spot in the store in the comments section below. You can also read our Assassin's Creed Origins Wiki guide for more updates.