Master Bison Moves List, Unique Attacks, Special Moves and Critical Art in Street Fighter V
Street Fighter V is now available and with 16 fighters all set to fight with the brand new attacks and additional techniques, abilities there are few Skills which are added such as V-Skills, V-Reversals, and V-Triggers. The game also features interactive arena, showcasing special animations when a player is defeated in a certain part of the arena. Here is the complete Data for M Bison and his Attacks.
M Bison – Emperor of Evil
Making his entry in Street Fighter II and finally title himself as Master Bison he return in Street Fighter V. He is Known as the Vega in Japan and shortened his name to M. Bison. In this series, he has a new plan involving a huge weapon to conquer the world unleashing his Psycho Power while laughing maniacally.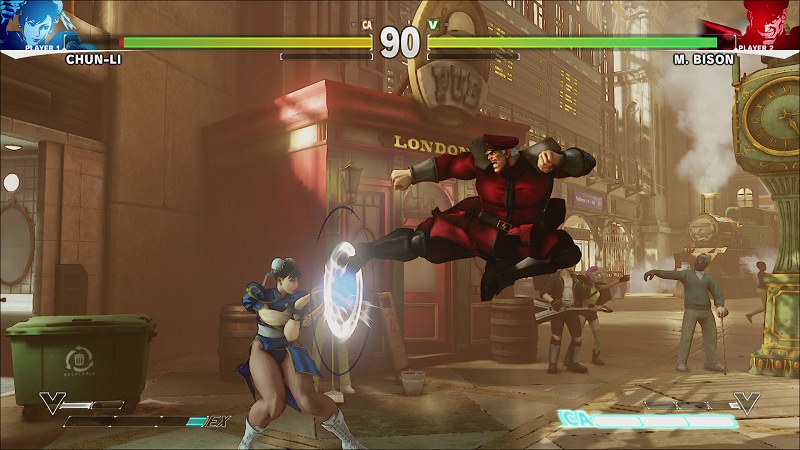 Info Card
Skills: Hypnosis
Occupation: Commander of Shadaloo
Fight Style: Psycho Power

Power: 4/5
Range: 3/5
Health: 3/5
Mobility: 4/5
Technique: 3/5
Moves List
Normal Throws
Psycho Impact (When Close to Opponent) – Forward or N + LP LK
Psycho Fall (When Close to Opponent) – Backward + LP LK
V-Skill
Psycho Reflect (Hold Buttons to Absorb the Opponents power) – MP + MK
V-Trigger
V-Reversal
Psycho Burst (During Guard) – Forward + All Punches
Unique Attacks
Hell Attack(When in Air) – MP PLAY + MP
Psycho Axe – DownRight + HP
Shadow Axe – MP PLAY + DownRight + HP
Special Moves
Psycho Blast – Charge Back + Forward + Punch
Double Knee Press – Charge Back + Forward + Kick
Head Press – Charge Down + Up + Kick
Somersault Skull Diver (Press Hits after Head) – Punch
Devil Reverse (Press Hits before Head) – Punch
Psycho Inferno – Quarter-Left + Punch
Critical Art
Ultimate Psycho Crusher – Quarter-Right + Quarter-Right + Punch
Legends:
Forward –
Charge Forward –
Backward –
Charge Backward –
All Punches –
All Kicks –
Down Right –
Down Left –
Up Right –
Up Left –
N –
LP –
MP –
HP –
LK –
MK –
HK –
Quarter-Right –