Necalli Moves List, Unique Attacks, Special Moves and Critical Art in Street Fighter V
Necalli is one of the 16 fighters in Street Fighter V and all set to fight against the brand new attacks and additional techniques, abilities there are few Skills which are added such as V-Skills, V-Reversals, and V-Triggers. The game also features interactive arena, showcasing special animations when a player is defeated in a certain part of the arena. Here is the complete Data for Necalli and his Attacks.
Necalli – Soul Consuming Darkness
Necalli is making his debut in Street Fighter V. He has a strong black hair, yellow eyes. His fighting style appears to be a mixture of "feral" brawling and wrestling which includes attacks like claw attacks, a dive kick, a ground slam attack, and various face-slamming grabs.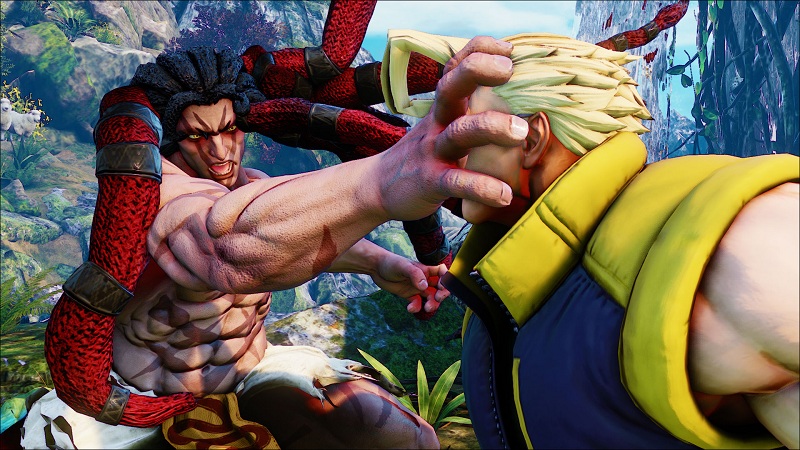 Info Card
Skills: Cooking Pasta
Occupation: Martial Artist
Fight Style: Ansatsuken

Power: 5/5
Range: 2/5
Health: 2/5
Mobility: 3/5
Technique: 4/5
Moves List
Normal Throws
Soul Sealer (When Close to Opponent) – Forward or N + LP LK
Soul Discriminator (When Close to Opponent) – Backward + LP LK
V-Skill
Culminated Power – MP + MK +(Control Distance by Holding) Forward + Backward OR N
V-Trigger
Torrent of Power – HP + HK
V-Reversal
The Calling(During Guard) – Forward + All Punches
Unique Attacks
Opening Dagger – Down Right + HP
Road of the Sun(During Forward Jump) – Down + HK
Sacrificial Altar – MK PLAY + HK PLAY + MP + MK OR Backward + MP + MK
Special Moves
The Disc's Guidance – Charge Backward + Forward + Punch
Raging Light – Quarter-DownRight + Punch
Mask of Tlalli(Close to Opponent) – Half Down Left + Punch
Valiant Rebellion – Quarter-Right + Kick
Critical Art
Ceremony of Honor – Quarter-Right + Quarter-Right + Punch
Soul Offering – Quarter-Right + Quarter-Right + Punch
Legends:
Forward –
Charge Forward –
Backward –
Charge Backward –
All Punches –
All Kicks –
Down Right –
Down Left –
Up Right –
Up Left –
N –
LP –
MP –
HP –
LK –
MK –
HK –
Quarter-Right –
Quarter-DownRight –
Quarter-Left –
PLAY –