NIOH Chapter 8 Falling Snow Walkthrough
The chapter will take you to Honnoji Temple destoryed by icy cold weather with demons around, a mysterious power is causing the issue, William needs to find and stop it.
Mission – Falling Snow
Similar to the previous chapter you need to enter the temple. There is purple crystal around. The path is simple, you need to walk ahead into the temple fighting dead soldiers.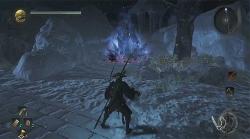 Follow the ice paths and broken roofs, enemies will keep on spawning in the between. you will reach to a path blocked by a yokai with blue tongue. After beating it follow the path with bloody grave and at the right you will find a shrine. Checkout for ice crystal around, there is frost butterflies in the path, kill them and move ahead.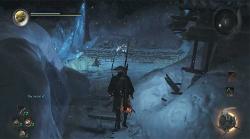 To get a path destroy the purple crystals left side, you need to turn around and come back a little. Walk around and open the locked door. Moving ahead you will find another yokai. Now this one can be killed easily if you can reach near, but it is hard. You need to wait once she stops attacking and then kill her.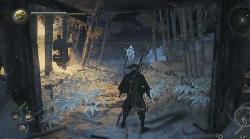 Destroy crystals in the path to make way. You will reach to an area with lot of ice around, keep following the path blocked by yokai's. you will need to use the meter on top right to reach the marked location. If you are lost go on the roof of any house and take a look around. That will help choose the direction to move. there are alternative paths for a single location. Just before you reach the final point can visit the shrine. You will need to head towards a set of butterflies.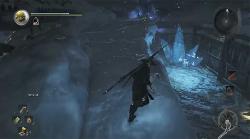 Finally you will reach towards another set of purple crystals near a blood grave. You have to break it down to access the path behind that leads you towards the main boss. Yuki-Onna. She has different type of attacks. First if you try to reach near she can damage your health really hard by ice spikes that appear from below the ground. Next she will walk towards you and give a combo hit. She will halt for a while, you need to be near. She is also capable of throwing weapons around. The best thing is to attack and dodge back to avoid those ice spikes. Use live weapons to shun her and attack to defeat her at once.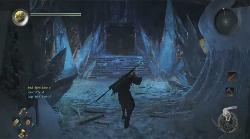 Yuki Onna is not hard to kill if you use some tactics like combo attacks and a life weapon. At the end, Williams gets two companions Kuku and Tenkai. So this was the end of Chapter 8 Falling Snow Walkthrough. You can continue with our Nioh Wiki guide or continue with Chapter 9 The Demon of Mount Hiei.