Pokemon GO – How to Track a Pokemon Footprint Guide
Pokemon GO has been hit with fans and so many players have started their Pokemon Journey already. If you've noticed the 'Nearby' option in the bottom right-hand corner of the screen that shows few images of the Pokemons with few Footprints below. This Pokemon GO Guide will show you how to track the Pokemon Footprint to locate a certain Pokemon.
How to Track a Pokemon Footprint
Most of the newly joined Trainers are clueless how to use this Nearby Footprint Tracks. So basically the Nearby Box will show what kind of Pokemon are spawning near your location. For example, if you're in a desert climate, you would be much less likely to find Water-type Pokemon. However, if you're on the beach, you're likely to find Water-type Pokemon.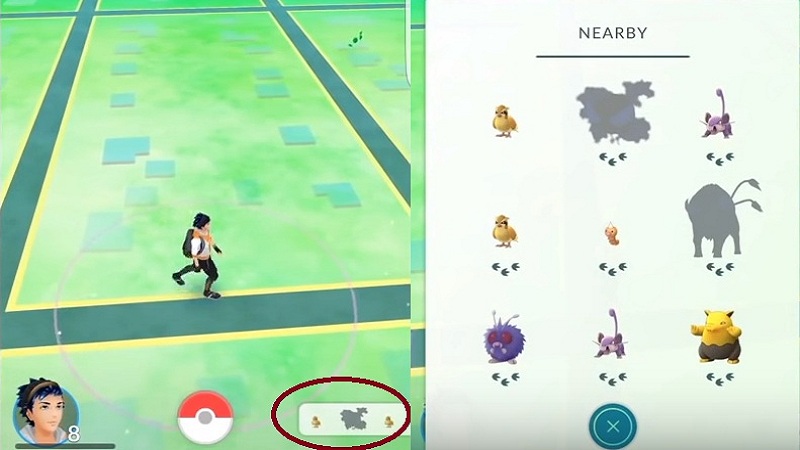 If you look at the above image you will see the kinds of Pokemon that might be found near our current location by using the Nearby feature. Pokemon with no Footprint means that Pokemon is ready to spawn at your current location(wait for 5 sec for him to appear). Pokemon with 1 Footprint means they're really close, two Footprint is a little further and three means they're quite far away.
Note: The Pokemon already in your Pokedex will appear in color, while those not in your Pokedex will be grayed out.
While Walking if you see the footprints reducing then you are heading in the right direction. This was all about the Pokemon GO Footprints, let us know which all Epic or Rare Pokemon you've come across. Also, check our Pokemon GO wiki guide to know more about the game.