Tips To Earn Good Ranks In PlayerUnknown's Battlegrounds
Looking for Ranking Tips for PUBG? this guide brings an extensive coverage of how to rank well in PUBG PC version and PUBG Mobile. Also, there are tips on all four maps: Vikendi, Sanhok, Miramar, and Erangel. The objective of the article offers overall information on how to improve Ranking by easily finding important loot locations and planning out a strategy to make your way all the way in Top 10. The guide has three sections Ranking Tips for PUBG Mobile (most of the tips in this section are also applicable in the PC and console version of the game), Maps and General Tips.
Top Ranking Tips for Android & iOS – PUBG Mobile
PUBG on Mobile is a lot more similar to its PC version but restricted to controls. On PC you have more powerful controls, bigger screen and lot more to do. On phone, things are limited due to the touch-based control but still, it is so much entertaining. If you are struggling on Android or iOS PUBG then this guide has some instant tips to become a Battle Royale master. These tips have a direct impact on your Ranks, the more you win the more you're placed in competitive matches. So everything counts.
1). Optimize Your Smartphone: PUBG is a resource intensive game, try optimizing the turning of things that can affect the game's performance. Like battery saver, auto-brashness, etc. If you are playing on mobile data ensure you have full network coverage. Go to the Graphic settings and adjust the frame rate. Highest offer best clarity but it also requires good hardware power. Enable Aim Assistant from Settings > Basic. This is similar to auto-aim just point in the right direction and shoot. Enable Auto-pickup, Peek and Fire & Auto-open doors from Settings > Basic. You can also use Gyroscope if your device supports it and turn off background music to get a more clear sound of enemy's footsteps.
2). Land On an Isolated Place: Looting is important and so is the landing. When you jump from the plane look for the swarm of players where they are landing try to stay away from that region. You will also have a general view of the opponent's location, use this in your favor and slowly plan your way to stay in the circle. Mark a place and try to land always on that one single location. This will help you to instantly plan your move because you already knew a lot about the area. Your next target is to Loot weapons, armors, ammo, etc by finding supply crates. Fall with speed and manually open your parachute to pick a right spot for landing.
3). Cover & Shoot: It is useless if you shoot an enemy that is out of your range, you can easily become a practicing target for others. So the first thing to do is find a cover if you spot someone and shoot when the enemy is in your shooting range. Every kills matters. Crawl if you hear bullet sounds.
4). Watch The Map: The circle will shrink with time and if you are left outside you will lose health. So keep a close eye on the map once you start moving. Learn the map properly, it is very important. Find a vehicle, this will save your time, but look for others watch closely before you jump into the driver seat. Everyone wants to reach fast in the center.
5). Use Silencer: It becomes hard for enemies to spot you if you are using a Silencer on your weapon. Stealth strategy is one of the best on a mobile platform. While raiding a crate lie down, or else you can be an easy target and lose all your possession. A couple of grenades in your bag will be very helpful to pull out a hiding enemy.
6). Talk To Your Team: Take help from your teammates if you are playing in a group to know more about maps locations. One of the safest ways to reach the center is to play in a group, this gives you additional cover and enough time to spot enemies.
7). Energy Drink: Consuming the drink will give you speed boost, drink two can before you want to escape a building or an area with enemies around. When you are fighting in the open region then it is very important that you carry enough Adrenaline Syringe, Pain Killers, Medkits and Energy Drink.
8). Don't Jump Into Fights: If you find a group killing each other, let them fight. Don't rush to get a few instant kills, instead observe survived players location. You can use Flare as bait to call in traffic, it's your only chance to get supply so use it strategically.
Map-Based Ranking Tips
Currently, there are four maps in PUBG. If we start from the newest to oldest then the sequence will be Vikendi, Sanhok, Miramar, and Erangel. Each map takes you to a different destination and brings a unique environment. Your Ranking depends on your gameplay how well you can compete with stronger players, how far you can survive and get the last kill. For this, you will need the best gear in less time. In this section, we have added some important tips that will help you to understand the important regions for gears and weapons. There are also some basic tips on how well to use the region in your favor to develop a winning strategy that will directly impact your rankings.
Note: Map screenshot used in this section belongs to Gamepedia.com, refer to the source link for more info.
Vikendi:
While landing on Vikendi you must have a look at the different zones that can possibly gift you the highest amount of loots. Getting good supplies means getting an edge over other players who will be still hunting for the best material. This will also directly impact your rankings. We have two guides that will help you in this matter, you can learn about best Drop Locations to get the highest amount of Loots, and the ideal place to hide and to play as a Sniper. One key secret to enhancing your ranking it to learn about the terrains well, so that you can know your location and your opponents. After playing the map multiple times you will be able to analyze other player's position and play strategically. So the first thing you have to do understand where to land, this will help you to avoid crowded places. Vikendi features a cold weather and snow-covered valleys, so avoid talking on snow much. This leaves footprints and can alert anyone around you, to escape fast use Snowmobile.
Sanhok: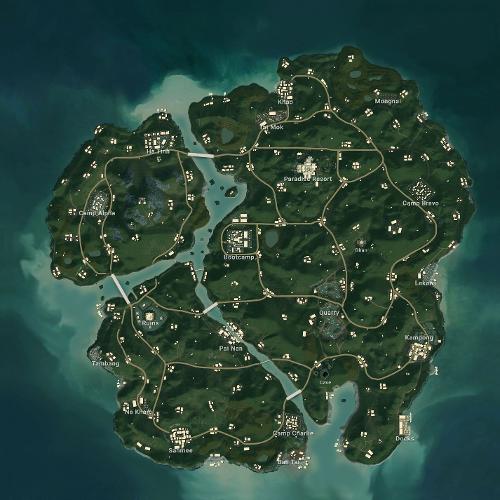 Sanhok is a small 4×4 map that takes you to South Asian Forest, it is divided into different regions. Many of you might have already gone through this at least one time. We have many guides on this map that you can use to improve your ranking as well to learn about different Map Locations, Loot Locations, and Strategy tips to enhance your gameplay.
Miramar: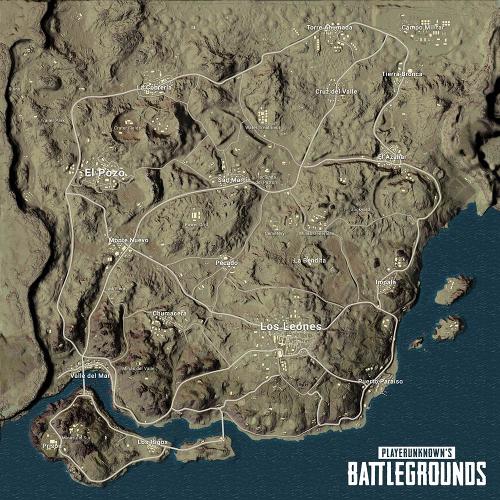 Miramar features an open city and desert region, if you know where to land then it saves a lot of time and also from dying. Your rate of survival increases automatically if you know the map very well, regions where you get high-quality loots and region that should be avoided at all cost. The objective is to survive, get the best gears and kill opponents before they shoot you down. In Miramar, you should focus on Military Base, School, Pochinki, Hospital, Mylta Power and Novo for high-quality loots. However, these places also have a high risk of opponent rushing for their share, so be very careful. There are many towns in the region that also offers you high-quality loots, but once again the risk is too high. Pecado, Mining facility near Impala, Los Leones, Camp Military and Water Treatment Facility are some other places to get the best loot. Miramar is an ideal place for snipers, they can be found on hills watching you closely. So keep your eyes all around, and do get a good view before you leap.
Erangel:
Erangel is the first map and it is pretty massive to explore. It is necessary to find the best landing points to get an edge over others. The best places to start with is Military Base, you get the best loots here. Second is Mylta Power which also offers you high-quality loot. School, Hospital, Georgopol Crates, Prison, Bunker, Mansion and big cities are the most common places you must spend your time. Regions like School, Crates, Military Base, Bunkers and Novorepnoye town comes with high risk. So if you landed somewhere in these region play defensive. The good thing about this map is that it offers you a huge space to hide, sometimes it can be boring to just search for things. It is ideal if you play with a team who can cover different regions.
To save your time you can check Interactive Map of PUBG by pubgmap.io, find locations of vehicles, boats, loot heatmap, hide locations, flight path, etc.
Tips To Rank Higher In PUBG
In this section of the guide, you can learn about important tips on how overall enhance our Ranking in PUBG, especially for PC. There is a big difference between the statistics of players on top and those who are average. However, it is not smart to directly compete with high rating player you have no chances to stand against them. What matters is "Practicing", the better the players you face, the more you learn by building your own strategies to stay alive for a longer period. For example, after playing a few hours it is possible for you to survive more at the starting point. Later you can make your progress in the mid-game and then comes the toughest one the final part when the end where the circle shrinks to a minimum.
One common strategy to follow is to stay on top of the buildings where you can spot other players more easily. If you choose to stay in cover then avoid jumping into a fight, wait for the last one and kill him to increase your chance of getting a high amount of loot. We had tried to add some top tips to enhance your rankings in PUBG above that one common requirement is to deal with stronger players.
PUBG Rating System
The more you die, the lower your ratings will be. PUBG rating system relies on the Kill-Death ratio. If you die more and kill less you will fall down on the graph, and if you follow the reverse pattern you will see yourself going high in rankings. Getting high ratings means more chances of winning. The ratings also depend on your status in the game. Like if you are able to win a game your rating will increase and if you die the same it will decrease by some point. So the objectives are to get the highest amount of kills to stay on the top.
PUBG has not released any public info about the rating system so most of the info is based on the gameplay experience. As we had mentioned the Ranking relies on Win and Kill ratings, win ratings has a major contribution. And this is based on where you are placed in the match. For example, if you are able to get on a higher place with one kill then you will earn more points than killing multiple players. Once you are able to spot yourself in the top 10 leaderboards, you have to crawl up to 6th place to gain win rating. Higher ratings mean more to do, you have to earn certain kills to maintain your position or else the ratings will drop really fast.
One way of earning better ranking is to understand others strategy. This comes with time, you will be able to understand where the players can easily hide, and you can use this against them. It will help you to take fewer losses and slowly in this way you can grow up in the leaderboard. You have to mark down your place from where you can strategically plan your kills. The position is everything in the game, it is one of the vital points required to earn ratings.
Try using various play styles, this will also help you understand which one contributes more to your ratings and then you can try out that constantly in various matches. Due to different styles, it is easier to manage different risk in the game, and you can easily spot changes in your ranks.
How To Earn Good Ranks
Some key points you have to focus on to improve your ranking, you can plan out your own strategy like What to do in the first 10mins will have a major impact in the end-game.
Position:
You will learn about the position with time, so usually, this is not a novice topic. Position matters a lot on PUBG, a good one means easy kills and your survival rates increases more. It is necessary you must figure out ways to dodge bullets, and strategy to camp. Finding something that can offer you good cover will put you on a plus point. It does not matter if you are not near the center. You will have time to reach there, but what matters is to reduce the number of players around. Some pro players choose high points, like a cliff or a roof of a building that offers them a clear view of what is going around. The position does not mean you have to be in a building, sometime in the forest you can find the area where you are not easily spotted use that to kill others.
Your exit point is also important, you must know if you are spotted and unable to fight, how to escape. every position must have a valid exit point, so that your escape time must be less. one gamble you can play is to reach the center and find the nearest building. well, others also think about the same, but if you are able to get to the point first, you are stronger then. others will definitely try to enter and you can plan your kill strategy. Camping around the circle is the best way to get kills. at the final stage when the circle shrinks most, try to stay away from the fire fight, it is really bad if you are caught between it.
Move Last:
A common mistake done by many players is they move really fast when the circle shifts. Stay back and do this last. Let the circle shrink and move with it. A lot of players expose themselves at this point. Keep camping quietly, there is a max chance that you will be the last one to move without anyone on your back to shoot you. You also get the edge to kill players moving ahead of you. This works when the circle shrinks towards your direction, but if it is on the opposite side then you can face a tough time. At this point, you have to move early to avoid damage from the blue circle.
Last Kill Only Matters:
In PUBG killing the last person matters the most, this is where you will see a boost in your ranking. It is best to stay out of the fight and let others kill each other. They are making way for you, but keep a close watch on people around. You might able to spot the last one and killing the player will give you good points. Always wait for engagement until you reach the Top 10. In the top 10 list, if you use guns others will be alerted. This is the point where the match gets tough. When you are able to reach Top 10 still you have to avoid the conflict at all cost unless you have a really good position to camp and you are in Top 5 or Top 3. Always play a defensive game when you are in Top 10.
There are many aspects that you will learn as you play, the game is not much predictable and sometimes it can be boring, so you have to follow your own strategy that you can build up with time. The above points will surely guide you. Do share in the comments section below the strategies you believe will work more in gaining high ranks in PUBG.
For more updates on PUBG you can scan our PUBG Wiki guide which covers many topics on various aspects on the game.
Map Section – Full Graphical Map Image Source