Rashid Moves List, Unique Attacks, Special Moves and Critical Art in Street Fighter V
Rashid is one of the 16 fighters in Street Fighter V and all set to fight against the brand new attacks and additional techniques, abilities there are few Skills which are added such as V-Skills, V-Reversals, and V-Triggers. The game also features interactive arena, showcasing special animations when a player is defeated in a certain part of the arena. Here is the complete Data for Rashid and his Attacks.
Rashid – A Friend Indeed
Rashid is making his debut in Street Fighter V and he was also seen Street Fighter EX series. He is he first Middle Eastern fighter within the main games series. He started his search of a missing friend who has been kidnapped by Shadaloo. His Fighting style includes acrobatic kicks, ability to control winds which create small tornadoes similar to Cody's Criminal Upper when utilizing some of his special attacks.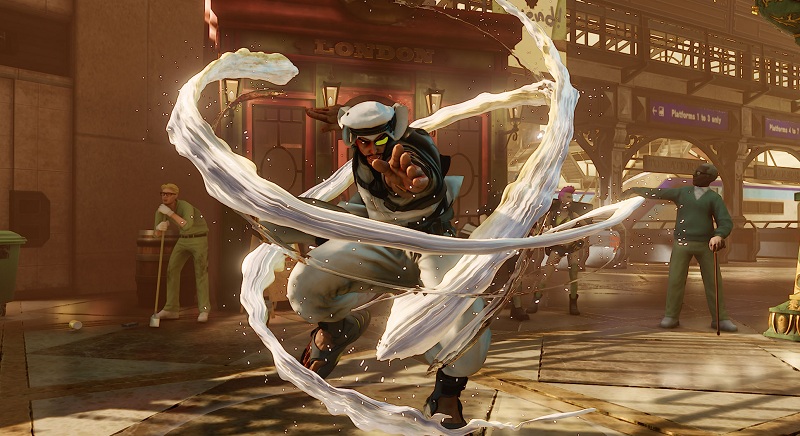 Info Card
Skills: Puzzle Solving
Occupation: Eldest Son in Wealthy Middle Eastern Family
Fight Style: Parkour

Power: 2/5
Range: 2/5
Health: 3/5
Mobility: 4/5
Technique: 3/5
Moves List
Normal Throws
Riding Glider – (CLOSE TO OPPONENT) Forward or N + LP LK
Rising Sun – (CLOSE TO OPPONENT) Back + LP LK
V-Skill
Front Flip – MP MK
Airborne Eagle Spike – MP MK Play Kick
Rolling Assault – Down + MP MK
Nail Assault – Down + MP MK Play Kick
V-Trigger
V-Reversal
Sliding Roll – (DURING GUARD) Forward + All Punch
Unique Attacks
Flip Spin – Forward + MP
Beak Assault – Forward + HP
Dash Spinning Mixer – (DURING DASH) Forward + Punch *PROPERTIES CHANGE WITH REPEATED BUTTON PRESSES
Dash Eagle Spike – (DURING DASH) Forward + Kick
Wall Jump – (DURING JUMP NEAR WALL) Up Right or Down Right
Special Moves
Spinning Mixer – Quater Right + Punch *PROPERTIES CHANGE WITH REPEATED BUTTON PRESSES
Eagle Spike – Quater Left + Kick
Airborne Eagle Spike – (DURING FORWARD JUMP) Quater Left + Kick
Whirlwind Shot – Quater Right + Kick
Critical Art
Altair – Quater Right Quater Right + Punch
Legends:
Forward –
Charge Forward –
Backward –
Charge Backward –
All Punches –
All Kicks –
Down Right –
Down Left –
Up Right –
Up Left –
N –
LP –
MP –
HP –
LK –
MK –
HK –
Quarter-Right –
Quarter-DownRight –
Quarter-Left –
PLAY –