Zelda BoTW Ravio's Hood Location, Where To Find Ravio's Hood
Champions Ballad DLC for Zelda: Breath of the Wild adds The Dark Armor Set and Ravio's Hood. In order to Unlock Ravio's Hood in Zelda Breath of the Wild, you will have to complete Merchant Hood Side Quest. In this guide, we have provided complete Walkthrough on Merchant Hood Side Quest and how to unlock Ravio's Hood. So let's get started.
Walkthrough Merchant Hood Side Quest And Unlock Ravio's Hood
First start the Ex Treasure: Merchant Hood and then get to the marked location on the map. Then Jump off the cliff and land on the Broken hut with the help of Glide. Next, read the Book to get the Clue for the Merchant Hood Side Quest. If you face any Problems then below we have mentioned how to complete the Merchant Hood Side Quest.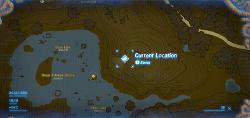 Merchant Hood Side Quest – How To Start
Location: Under the Right Claw of a Dragon near the Springs of Courage.
How to Get: After you teleport to the Shae Katha Shrine of Shae Katha's Blessing, run to the right claw of the Dragon and get beneath it. Now make use of the Magnet and Pull the Chest buried under the Ground and there you will collect the Ravio's Hood and complete the Merchant Hood Side Quest as well.
Benefits of Ravio's Hood: It helps in increasing the Climb Speed while you are Shimmying in the Sideways.