How to Get Millennium Falcon in Star Wars Battlefront 2
The Millennium Falcon makes its return to the Battlefront 2. In Star Wars universe Millennium Falcon is one of the best Hear Ship the player needs to unlock to enjoy the perks. This Star Wars Battlefront 2 guide will show you how easily you can get your hands-on this Hero Ship – Millennium Falcon.
How to Get Millennium Falcon
In Star Wars Battlefront 1, the Millennium Falcon was a limited timer vehicle but very destructive by nature – the Hero Starfighter for the Rebels in Fighter Squadron mode. The Battlefront 2 is no different, but here you need some more patience and a good amount of Battle Point. We have a dedicated Hack guide just for you to earn More Battlefront 2 Battle Points.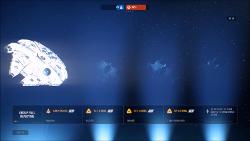 There are certain requirements you need to fulfill in order to get your very own Millennium Falcon. So let's begin with the Starfighter Mode first and we recommend going with Interceptor to kick your enemies in style and earn a lot of Battle Points. The best way is to focus on your objective and stick to friendly units. In order to Fly Falcon, you need 2500 Battle Points. Best way to farm Battle Points in Starfighter Mode is taking down the enemy ship down.
Note: If someone else is Flying the Millennium Falcon then you have to wait for your turn or wait for them to die.
For more interesting Star Wars: Battlefront II guide like this stay tuned to Gamepur as our coverage has just started.