The Division Guide for Max Level 30 Players Tips and Tricks
Level 30 in The Division is the last Character level a player can reach. As You Max to level 30 the Dark Zone mechanics will change and will have no level-segments which mean the area will be repopulated with new enemies with higher challenges and danger. This guide will show you what to do after reaching Max level and some tips and trick to do with Level 30 Character.
If you are a level 30 player then you must be thinking what's next? Well, there are different things to do which matter more than just increasing your XP. You can chase the high-end Legendary weapons, gears, and items, in the end, game. So without any further ado, let's focus on what are the things to be explored for a Maxed Level Character.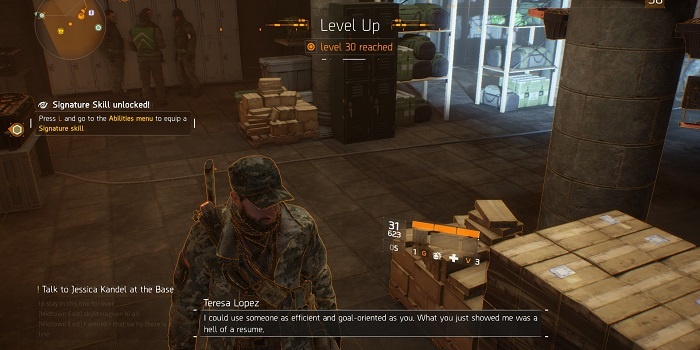 Max Level 30 Players Guide
Now as you know that Level 30 is maxed and every player is going to reach there someday as it takes hardly 15 hours of gameplay to reach there. It's better to gear up with getting stronger by increasing the Total Gear score. Visit the Dark Zone Vendors to grab the Top order equipment, but for that, you also need Phoenix Credits. Here is what you can do in your past time.
Repetitive Missions
As we mentioned earlier in our Wiki, the mission can be attempted a number of times, but you are going to apply for Hard Mode. These won't give you any reward, but there are chances that you might get a certain Gear Drop. Equip these for the Next Mission and Challenging Mode.
Challenging Mode
We are not asking you to go through the whole process again, but the real motive here is to try completing the mission in Challenging Mode(Unlocks for only Level 30 Players). Completing these mission will reward you with awesome Phoenix Credits, but note that these missions won't be easy and can only be played once. The Enemies you are going to encounter will be much stronger than you expect. So better gear up properly before taking up these missions.
Dark Zone Exploration
Every player in Dark Zone enters as Neutral and is equally part of hunting the contaminated loot. Players with no Dark Zone Pouch are useless as they carry no loot, but they can still attack you so be careful. If you are Interested in becoming a Rogue Agent then do Check our guide on How to be a Rogue Agent.
Daily And Weekly Missions
There is a special mission for the level 30 Players in the Division. If you are a level 30 player then you must be aware of the 3 Daily Mission which is allotted to you, these are similar to the Story Missions, but the only difference is that you are rewarded with Phoenix Credits if you manage to complete it successfully.
Get To Dark Zone Rank 50
With all you Level 30 Skills, let put you to a test in the Dark Zone where your target is to reach Dark Zone Rank 50. Once you get to Dark Zone Rank 50, you will unlock a significant number of new Blueprints that allow you to craft a number of unique High-End Equipment. So What are you waiting for Go get it.
Here is The List Which you must also check after Reaching Level 30 Character.
So here are all the things that you can do in the game once you reach the Max level 30. Check the Video Below to get some more tips on Level 30 Characters.