The Division: How to Switch your Gears and Re-Roll Stats
The Division is out and players have already started their exploration in the Manhattan. There are Tons of thing you might be unaware of so do check our The Division Wiki Guide to know everything about the game so far. This Guide will help you on how to unlock the switching gears and re-rolling stats process.
How to Switch your Gears
You can now switch your Gear's perks and stats to any other gear if you are not using them currently. You need to Unlock the Re-calibration Station first, to unlock the station you must unlock the Tech Wing at your Base and then buy the Re-calibration. This Station will be unlocked right behind the Tech Wing upgrade station.
Once you have the Re-calibration station ready, it's time to learn and enable the re-roll stats on your gear(currently using). The Switching and re-roll completely depend on which level you and your gear are at then give you the estimated price to re-roll the stats. For Eg: If you have a Ballistic Shield Health Stat on a Combat Mask then the re-calibration will show you as Pulse Critical Hit Damage Bonus or Smart Cover Duration or Fist Aid Ally Heal. The Re-Roll varies from equipment and their different status effects.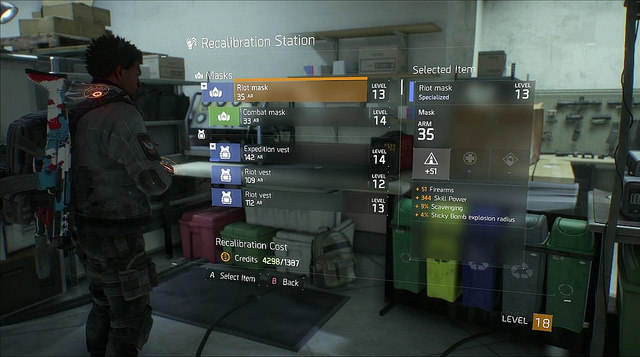 Note: The More you Re-Roll the gear the more overpriced it becomes. So choose wisely.
There are possibilities to get lower stats after re-rolling due to the uneven percentage of effectiveness on your Stats. There are players who like to stick with the specific set of gears only, but the end of the day you need to have some change to get more or less effect on the gameplay. Make sure you don't waste time on Switching and re-rolling the lower level gears. Enjoy.