Chapter 1: Into The Flame Walkthrough – The Evil Within 2
As you start playing Evil Within 2 you have to choose the difficulty level between Casual, Survival and Nightmare. Casual will give you more resource and you die slowly, Survival is a bit tough here and Nightmare will reduce resources at a high level and enemies attack will cause high damage. So pick wisely how you want to play the game. You can also turn on Aim Assist, this auto-lock the target when you shoot at him.
Chapter 1: Into the Flame Walkthrough
This one is an introductory chapter where you will learn to control Sebastian Castellanos the main character. He is a detective who works for Krimson City Police. Run towards the burning house, push the door. Due to fire, you have to take the window on your right. Go upstairs and you will find Lily. This is more like a dream where Sebastian wakes up at a hotel. Juli Kidman who was working with Sebastian long before tells him that his daughter is alive and there is a chance to save her. Things won't go well and he is taken to Mobius. Mobius is a group, the makers of the STEM. Their objective is to connect human mind with the machine and control the world. The STEM is a machine that lets multiple minds connect and work together. Through a terminus it allows a subject to connect with the machine and experience their memories.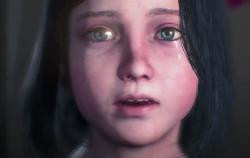 Joseph Oda appears in the next scene as Sebastian reaches Mobius, he admits using Lily, Sebastian's daughter as a subject for the STEM. Due to some circumstances, Lily and a team of agents are lost in the STEM. Sebastian is brought into the center to investigate the same. But more he is here to find her daughter. Sebastian enters into the STEM, wait for a while and you will see a house at a distance. Walk towards it and you will find communication device on a table. This new office "Room" is also the safe house. Investigate on the board on your right, you will find pictures of 5 Agents who had gone missing. This place is called Union.
So this is the end of Chapter 1 Into the Flame, you can read our walkthrough on Chapter 2 Something Not Quite Right, where Sebastian enters STEM and investigating leads of his daughter. You can also go through our The Evil Within 2 Wiki guide for more tips on the game.