Chapter 12: Bottomless Pit And Chapter 13 Stronghold Walkthrough – The Evil Within 2
In last Chapter 11 Reconnecting, Sebastian finds leads on O'Neal that turns out to be a monster serving Theodore, he also locates Hoffman and finally blows up the machine that is hiding the evil preacher. In this part, you will get a walkthrough on the next two chapters. In Chapter 12 Bottomless Pit, Sebastian heads to find Father Theodore and then in Chapter 13 Stronghold he founds his location after breaking his hide.
Chapter 12: Bottomless Pit Walkthrough
Use the Communicator to find where Lily's voice is coming from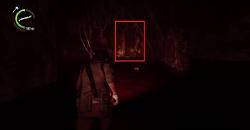 After destroying the machine in the last room, Theodore will pull in a dark room, filled with blood and lot of dead bodies around. You have to fight with a few creatures in your path. First, kill them, and you will find a huge door on the back of a pillar with burning candles. This place is filled with a lot of creatures, when you go near the door you can use the communicator to get voice signal. Go near the door and move the lever to open it. Similar to the previous room, this one is also filled with creatures and blood. you will have to walk a lot here, keep on moving following the candles and you will find debris of Lily's bedroom. Go near the door, and after the cutscene, run towards the grave in the end. Watch out for creatures around.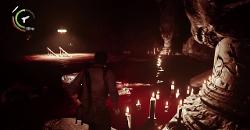 Once again use the Communicator to locate the voice signal, finally while moving around and using the communicator you will reach stairs, keep going down, and you will reach a huge hall. Go near Lily for the cutscene.
Search the house
After the cutscene, Sebastian find himself in his home, you will have to search this house. In Lily's room, you will find a Photographic slide. Go down and in the kitchen on the table you will find a letter from Myra. Once again after the cutscene where Sebastian's talks to his wife, head to the main door. You will listen to Hoffman's voice that will take you to back to The Marrow: Facilities. Hoffman will tell about Theodore and path to reach him. She will also tell you about a device that will help Sebastian to reach near Theodore. This is the end of the chapter.
Chapter 13: Stronghold Walkthrough
Make your way through the remains of Union to reach Sanctuary Hotel in the Business District: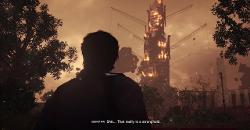 Take Esmeralda's gun and head to the next objective. You will have to take Exit D5, and use the computer in it, and you will reach Post Plus. Grab items from the room, and head to the marker on the map for the main objective. As you go out you will see fire all around, and the stronghold. As you are out you will see many creatures along with the one who uses a flamethrower. So you have to skip them at all cost, if he spots you then it will be really hard to kill him. You can freeze him and shoot on the head. Once he is dead, go near him and collect weapon part, like a Flamethrower Fuel Tank. This will help you to craft one of your own later.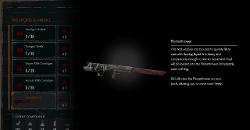 Try to use an alternate path to void enemies, and reach the Sanctuary Hotel. Enemy's number will rise as you go near to the hotel. You will also find a safe house while locating the hotel, this will help you to get a break from following enemies. You can lure the flamethrower enemy behind you, kill him and gather weapon part to craft your own Flamethrower, this one is a pretty strong weapon, you can use. Once you reach the hotel, contact Hoffman. In the next cut scene you will see, she will bring a Portable Field Stabilizer that will help you to draw fire away from a smaller area.
Speak with Hoffman to begin the trip to Theodore's stronghold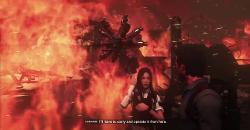 Next, you will have to talk to her to continue the mission, once you are ready to go ahead. You still have a chance to upgrade your skills before beginning the mission. Once done, she will carry the device with you. You have to move slowly and you will have to protect Hoffman also from dying. If she goes down, so the device. Follow Hoffman, she will lead you towards the stronghold, keep on shooting enemies appearing ahead. You will have to look all around, try to shoot the enemies before they reach near Hoffman. Try to dodge an attack or you will be thrown into the fire, this will dry out a large amount of your health. In the next cutscene, you will see a horde of enemies will follow Sebastian.
This is the end of Chapter 13 and Hoffman comes to your assistant to take you towards Theodore's stronghold, you can read our walkthrough on the next two chapters Burning the Altar & The End of This World or you can go through our Evil Within 2 Wiki guide for more updates and tips on the game.