The Witcher 3: Blood and Wine – Cloud Giant Boss Guide
Cloud Giant is a Monster in Blood and Wine DLC where Geralt will be battling in the 'Beyond Hill and Dale' quest. This is one of the Tricky Boss you will come across so far and thus we have decided to share you few Tips and Tricks on How to Defeat Cloud Giant with ease and explore the newly added quest, armors, weapon and much more.
How to Defeat Cloud Giant Boss Fight
During your Journey in The Beyond and Dale Quest, you will come across some seeds which will grow into a Beanstalk just like in the Fairytales. Once you and Syanna had made the climb this Boss Fight will trigger and here are few things you must know about the Cloud Giant before taking him down.
If you look at him closely he looks similar to Golyat, but with better armor and weapon. He is much stronger and he uses the same attacks skills like Golyat for swinging the weapons and the slams it. He also has a unique ability to disappear in the cloud and jumps near you with a Slam attack, so here you need to be more careful whenever he falls through the cloud.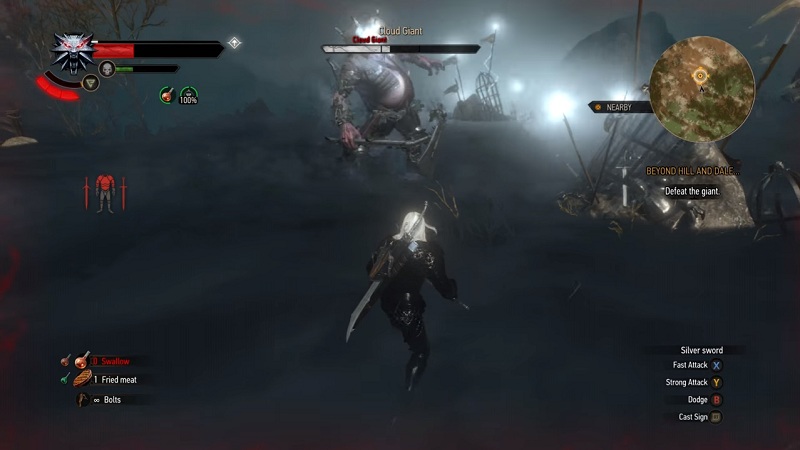 In order to Defeat him, you must have Igni, Dancing Star Bombs and Ogroid Oil ready with you. Now Whenever you see him disappearing into the clouds run towards the Pile of Metal and as he shows up the lightning will strike at him and making him vulnerable so it's your time to charge and drain his health down.
Keep Repeating this procedure until you take him down and make sure you stay away from his swings as they are much more powerful than they look. Try to use the Heavy attacks then the Lighting stuns him and finally he will be down in now time. After Defeating, the Boss Cloud Giant get ready to have a good time with Syanna. Enjoy.