The Witcher 3: Blood and Wine – Golyat Boss Guide
Blood and Wine is another Big expansion in The Witcher 3 where the player will explore the newly added quest, armors, weapon and much more to get ready to find and defeat the strong Foes and their Bosses throughout the game. This Boss guide will help you with the Tips and Tricks on how to defeat the Boss Golyat in The Witcher 3: Blood and Wine.
How to Defeat Golyat Boss Fight
Once you start with the DLC Blood and Wine, Geralt will accept the Contract and enters Toussaint. The First Boss the Geralt will have to battle is Golyat which will be the part of the Main quest 'The Beast of Toussaint'. So let's get started with the Tips and Tricks on how to defeat the Boss.
Before you start the Battle and attacking Golyat, there are some things you should know, so firstly fight for yourself and don't worry about the three knights fighting with you as they won't die. While they are busy attacking the Monster you can look at his moves and attacks so you know how and where exactly you need to attack him.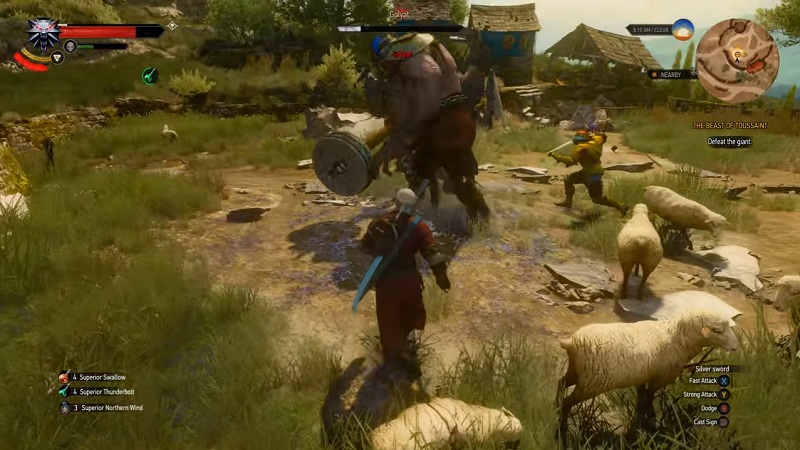 Golyat is a Strong Boss and you need to be careful of his two moves which are the Whirl Wind Attack that damages everyone nearby and other is the sweeping attack which he attacks when you are standing behind him. Make use Orge Oil during the fight to get the upper hand.
Now You know that Golyat has strong but slow attacks so you can easily dodge and attack him just like the other knights. Do not hurry, take you time and learn new moves as more deadly Bosses are waiting for you in this Journey. The Tip here is Dodge and attack which will make it easy to take the First Boss Down.