The Witcher 3: Blood and Wine – Shaelmaar Boss Guide
Shaelmaar is another Monster Geralt will be battling after Golyat and Bruxa in Blood and Wine expansion of The Witcher 3. You must be ready to fight more brutal and deadly Bosses in this DLC along with an exploration of the newly added quest, armors, weapon and much more. This Boss guide will help you with the Tips and Tricks on how to defeat the Boss Shaelmaar in The Witcher 3: Blood and Wine.
How to Defeat Shaelmaar Boss Fight
Once you have explored the Corvo Bianco and done dealing with Bruxa you will be meeting you next Boss – Shaelmaar in the arena of Toussaint. Shaelmaar is a Blind Monster and he can only sense through the Vibrations he sends and to get his attention make use of the Bombs, but before you get into the battle here the things you must know just like we did for Bruxa and Golyat Boss Guide.
Shaelmaar has three weak points – Aard Sign, Relict Oil, and Samum Bombs. While are ready to charge the attack you must put the oil to increase the amount of damage while the other two are only used to draw his attention. As he has a Hard Sheel on his back which works as an Armor for him so wait for him to roll and turn upside down(on its back) where you see the skin and attacking area.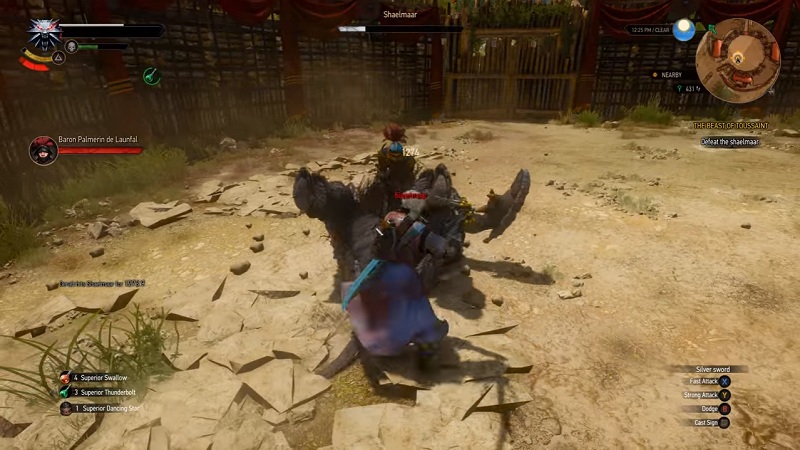 If you see Shaelmaar digging and rolling nearby it's time to head back and get a cover as he throws away stones which take a good amount of your health. The Tips here is to stand near the Gate then draw his attention with Aard and Samum and let him roll and bang the Wall to turn on his Back. Use the Heavy attacks on his back to drain his maximum health.
Keep repeating this procedure and you will take Shaelmaar down in now time. Once you defeat Shaelmaar, you'll have tow choices either you can Kill the Monster or Spare him, but at the end, you will be greeted by Duchess Anna Henrietta and reward you with Deed and Key of Corvo Bianco Vineyard the same place where you defeated Bruxa.