The Witness: Walkthrough Part 2 – Mysterious White Door, Blue And Green Maze
Once you finish the First part of the Game, you will be introduced to the new set of puzzles which has black and white dots included on the Board. Now you are open to The Witness Island where you can go and explore where ever you want. This Walkthrough Guide will show you how to Complete the Second set of the Game which is the Mysterious White door, Blue And Green Maze.
Walkthrough Part 2 – Mysterious White Door, Blue And Green Maze
As you leave the Garden and start moving ahead you notice a Mysterious White Door on the Left side of the Hill with different pattern maze on it. In order to Open this Door, you must know and learn the New set of Puzzle which is waiting for you a little Ahead.
You need to Master this New variation in the Puzzle in order to open the Mysterious White door and claim the reward. Once you are done with the exploration the area I am sure you must have come across the two types of Puzzle – One with Blue Board and Other with Green, but here is the catch, these puzzles are different from the one which we are solving till now. These Puzzles have Black and White Dots and the Solution to solve this is to separate or wall the Black squares off from the white dots. Check for the Solutions below.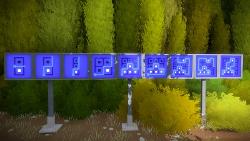 Same goes for the Green part which is right behind you after solving the puzzle head towards the White sorts of the pavilion. The Green Puzzle can be solved by hitting all the Black Dots on the way to your goal. Just like the one shown below.
Now that you have completed both the puzzles you must have learned how to play with such puzzles. Now Go ahead towards the Mysterious White Door and use your Mind to solve the puzzle with the one you just learned. Ok, if you have no luck to solve that little one check out the Solution to that Puzzle below.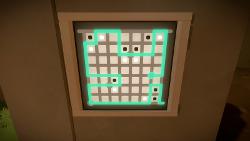 Go Inside and claim your reward. Thus Completing our second Walkthrough for The Witness and Let's move towards the next Adventure that is the Walkthrough Part 3 – Artist's Studio, Symmetry, Beach Art House and Oasis Island.