Vega Moves List, Unique Attacks, Special Moves and Critical Art in Street Fighter V
Vega is one of the 16 fighters in Street Fighter V and all set to fight against the brand new attacks and additional techniques, abilities there are few Skills which are added such as V-Skills, V-Reversals, and V-Triggers. The game also features interactive arena, showcasing special animations when a player is defeated in a certain part of the arena. Here is the complete Data for Vega and his Attacks.
Vega – The Sweet Whisper of Death
Vega made his debut in Street Fighter II, he is also known as Balrog in Japan. He is very obsessed with his beauty along with his unique fighting skills. Making his return to Street Fighter V series he will be much stronger with his blond hair is tied in a slick back in a ponytail with a long single fringe in the center of his head.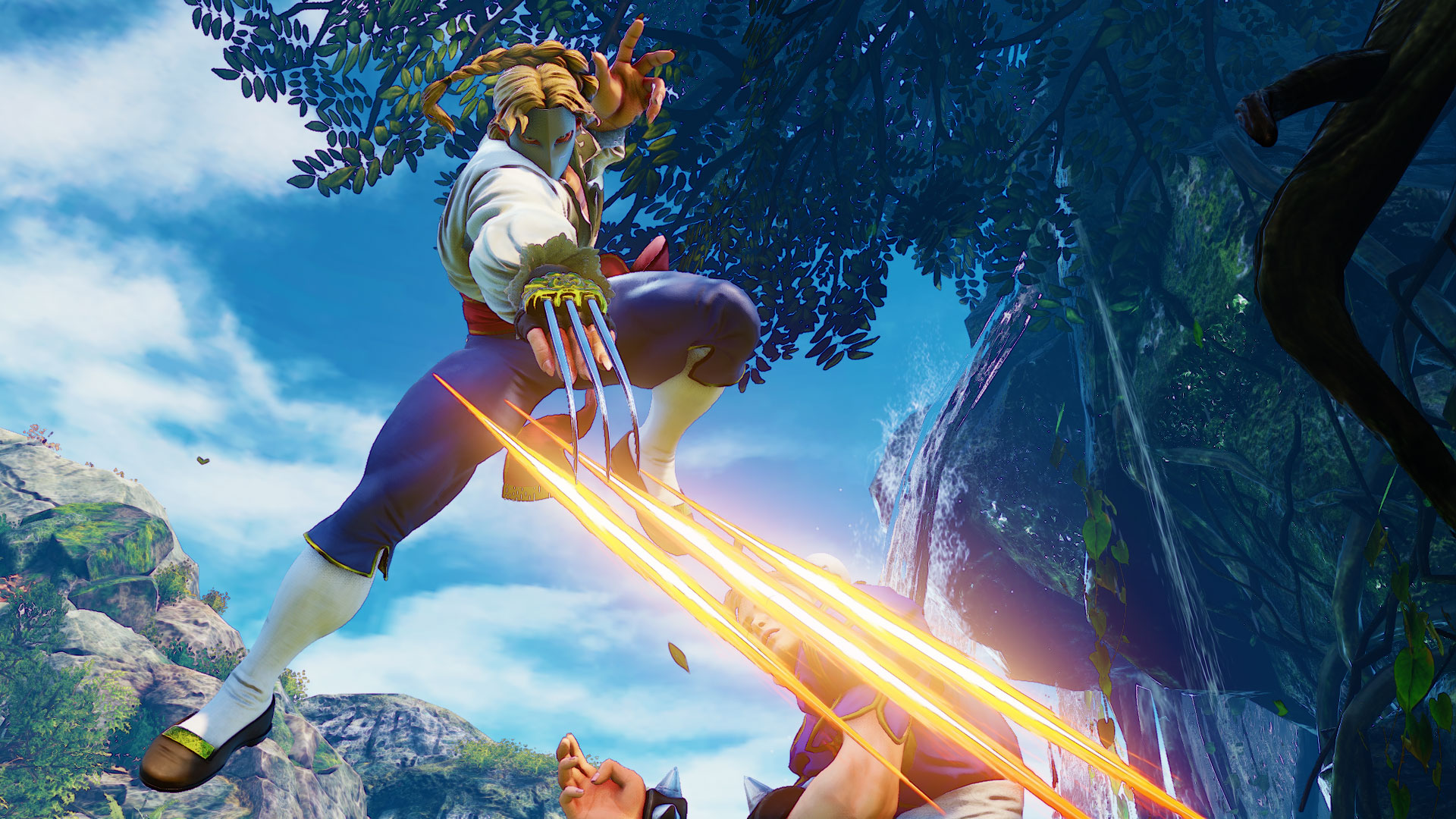 Info Card
Skills: Sticking to the Walls
Occupation: One of Shadaloo's Top Agent
Fight Style: Spanish Ninjutsu

Power: 3/5
Range: 3/5
Health: 2/5
Mobility: 5/5
Technique: 3/5
Moves List
Normal Throws
Rainbow Suplex (When Close to Opponent) – Forward or N + LP LK
Crescent Line (When Close to Opponent) – Backward + LP LK
Stardust Shot (In Air) – LP + LK
V-Skill
Matador Turn – MP + MK +(Hold to attack)
V-Trigger
Bloody Kiss – Torero – HP + HK
Bloody Kiss (Rojo) – Down + HP + HK
Bloody Kiss (Azul) – (During Forward Jump) – HP + HK
V-Reversal
Backslash – (During Guard )Forward + All Punches
Short Backlash – (During Guard )Forward + All Kicks
Unique Attacks
Mercury Shard – Forward + MK
Buster Claw – Forward + HP(Claw Only)
Matador Flash – HP PLAY + HP PLAY + MP + MK(Claw Only)
Matador Blitz – MP PLAY + HK PLAY + MP + MK(Claw Only)
Wall Jump – (During Jump near the Wall) – Top Right
Special Moves
Flying Barcelona Attack – Quarter-DownRight or Quarter-DownLeft + Kick PLAY + Punch
Izuna Drop – Quarter-DownRight or Quarter-DownLeft + Kick PLAY (Close to Opponent) LP + LK
Grand Izuna Drop(Close to Opponent) – Half Down Left + Punch
Crimson Terror – Quarter-Right + Kick
Aurora Spin Edge – Quarter-Left + Punch
Switch Claw – Quarter-Right + Punch(Switch to Claw)
Critical Art
Bloody Rain – Quarter-Left + Quarter-Left OR Quarter-Right + Quarter-Right + Punch
Legends:
Forward –
Charge Forward –
Backward –
Charge Backward –
All Punches –
All Kicks –
Down Right –
Down Left –
Up Right –
Up Left –
N –
LP –
MP –
HP –
LK –
MK –
HK –
Quarter-Right –
Quarter-DownRight –
Quarter-Left –
PLAY –