Warhammer 40,000 Dawn of War 3 Beginners Tips and Tricks
Warhammer 40,000 Dawn of War 3 brings a competitive RTS platform with various elements to deal with. For those who know about RTS well, can easily figure out how to play it well after testing it for few minutes, but for the beginners, a few in-game elements can lead to confusion. This guide will offer you the best tips and tricks to start as a beginner. At the beginning it is necessary to understand that the entire game UI makes the job easier in battle, the next is learning the controls and finally equipping your experience with more and more battle whichwill nourish your pro gamer skills with time.
So let's begin with the tips, the guide has first a basic set of necessary points that you can read either at the start or after testing the game. Dawn of War 3 also has a set of three tutorials, the first allows you to know about controls, second battles and upgrades and finally the last one will help you to understand the multiplayer mode. Anyone can start with the tutorial to have a know-how of the game.
Dawn of War 3 Beginners Tips and Tricks:
So we begin with a few important beginners tips that will help you to play the game well and advance your skills further. Below you can also find the control guide, menu and HUD details. It will help you to understand the game and will ease your game play.nbsp
Begin with Campaign Casual: Start a single player mode first, and choose the casual difficulty, play through the game to some levels, it will help you to apply your memory for controls and managing the units. Later you can go ahead with the multiplayer mode by creating a custom match against the AI.nbsp
Core Game Mechanism: The game could be tough to start, but as you understand its core mechanism it will get easier and you will be clear about the targets.nbsp
Investing Wisely: It is not necessary that constantly building and upgrading will give you the edge over enemies, it is necessary to keep a balance on your spending and reserve resource points. This will help you a lot in tough battles.nbsp
Elite Points: These are the currency to buy Elite Unites and Super Abilities. Without Elite Points your army remains weak, and they are not rewarded all the time. You have to collect this slowly and use them wisely,only when needed. As Elite Points are rare, it is not good to just spend them on low-end battles. Super abilities are the game changers, if you have the good amount of Elite Points, it will help you to call this ability to take down a horde of an enemy in no time.nbsp
Melee vs. Ranged: It is very important to understand these stances and apply them with strategy.nbsp
Stealth: There is a group of soldiers who can attack in stealth mode, they can also be detectors to find hidden enemies. Using them strategically will help you to locate hidden enemies in the game.
Warhammer 40,000 Dawn of War 3 Main Menu Items: What are they do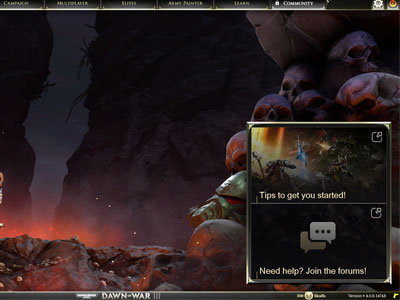 Player Profile: Allows you to peek at your match history and customize your profile picture.nbsp
Home: At the right bottom section you can check out news and updates for the game.nbsp
Campaign: Begin a single player mode against the AI.nbsp
Multiplayer: Start a multiplayer match, you can start a quick or you can create your own custom match.nbsp
Elites: The section allows you to modify your Elites load outs and you can also select Doctrine from here.nbsp
Army Painter: Want some more customization head to this section for a color scheme or just paint your own.nbsp
Learn: All tutorials are here, check out replays, etc.nbsp
Community: The Leaderboard, know how popular you are.nbsp
Warhammer 40,000 Dawn of War 3 Elements of HUD:
The HUD is in your control panel on the game, it has various elements that you have to understand first, click on the below images to get a full view of HUD and its parts.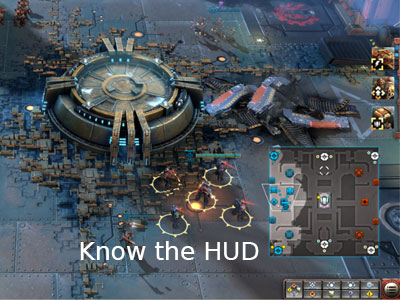 Warhammer 40,000 Dawn of War 3 PC Controls:
Keyboard Controls: The navigation, selecting a team and attacking enemies is mostly done by the mouse. So mouse controls are simple, but for keyboards, there is a pretty huge list of keys combinations.nbsp
Basic:
Press Esc key to deselect a selected Unit or Structure. The same key is also for pausing the game. You can also pause the game by Pause Break key.nbsp
To chat Hit Enter
Pan Up, Left, Down and Right: Ctrl + W, Ctrl + A, Ctrl + S and Ctrl + D
Elite Slot 1, 2 and 3: F1, F2, and F3
Super Ability: F4
From Building 1 to 5: F5 to F9
Pause Menu: F10
Lock Mouse to Window: Ctrl + Backspace
Advance:
Control Groups:nbsp
Select Control Groups: #
Create Control Groups: Ctrl + #
Clear Control Groups: Alt + #
Unit Selection Controls:nbsp
Select all Units: Caps lock
Select all on screen Units: Ctrl + A
Select All Builder: Ctrl + Comma
Select All Idle Builder Unit: Ctrl + Alt + Commanbsp
Cycle next to Builder Unit: Use Commanbsp
Cycle next to Idle Builder Unit: Alt + Commanbsp
Select all Infantry Unit: Comma + Period
Select all idle Infantry Unit: Ctrl + Alt + Period
Cycle next to Infantry Unit: Use Period
Cycle next to Idle Infantry Unit: Alt + Period
Select all Vehicle Unit: Ctrl + Slash
Select all Idle Vehicle Unit: Ctrl + Alt + Slash
Cycle next to Vehicle Unit: Use Slash
Cycle next to Idle Vehicle Unit: Alt + Slash
Cycle next to Idle Vehicle Unit: Alt + Slash
Ping:
Ping Menu: Ctrl + B
Ping Attack: Ctrl + H
Ping Defend: Ctrl + J
Ping Capture: Ctrl + G
Ping Caution: Ctrl + L
Other Controlsnbsp
Press apostrophe to focus a camera on selection, and Home button to focus a camera on HQ.nbsp
Press Backspace to restore Default Camera, for zoom in and zoom out you can use Page Up and Page Down.nbsp
View player list: " or 0
Quick Save: F5
Replay Controls:
Toggle HUD: Ctrl + U
Decrease Speed: Minus
Increase Speed: Equals
Next Player: Right Bracket
Previous Player: Left Bracket
Grid/Ability Hotkeys:
Top Row: QWER
Middle Row: ASDF
Bottom Row: ZXCV
Space Marine: Rare Specific Controls
Plant the Standard: G
Drop Pod Slot 1, Slot 2 and Slot 3: J, K, L.
Mouse Controls:
Left Click for selecting a unit, structure, target, or using attack mode by Left Click + A. It is also used to hold and drag to select multiple units at a time. Right click is for moving the unit to a location. The mouse wheel offer you move a camera and zoom in / zoom out control.