Xbox One X: 2 Best And Easy Way To Transfer Data
You are planning to buy the all-new 4K Xbox One X from Microsoft, but the one thing that is making you think twice about going for it is – How To Transfer Games, Data And Settings From Xbox One or Xbox One S to Xbox One X? Guess what, you don't have to worry at all as there are 2 Easy Ways To Transfer Data To Xbox One X from either Xbox One or Xbox One S, and DATA here means anything: "Games, Apps, Settings". Let's find out what exactly these two methods are, the first one is: Using External HDD, and the second one is: Using Home Network.
2 Ways To Transfer Data On Xbox One X
1: Using External HDD – Transfer Data To Xbox One X
This is the simple method where you can transfer all the data prior you have a New Xbox One X. Below we have mentioned the complete steps.
Step 1: Make Sure that your Xbox One is Updated with the latest System Update.
Step 2: The Hard Drive you are going to Use should be minimum 256 GB and should be formatted and support USB 3.0.
When you connect your desired Hard Drive to the Xbox One from where you want to transfer the data. It will Automatically prompt you a message for formatting the drive. By any means, if it doesn't then get to System -> Manage Storage. Then select the drive that you want to Transfer the data in. Now Press A and select Format For Games and Apps.
Now that you are set with the Hard Drive lets to get to step 3
Step 3: Now Go to System Setting -> Storage. then get to the internal Storage, now press A and select Transfer from the Dropdown menu. Then Select All to transfer all Game and App data to the External Drive. Or you can individually select the data that you wish to transfer.
Step 4: Now that you have selected all your desired Data that you want to Transfer select Copy Selected to simply Duplicate the data on your External Drive or Move Selected to permanently move your selected data to your External Drive.
Step 5: Now That the Data is been done let's get to the System Settings as well which includes your preferences, themes, etc. Get to System Settings -> Backup and transfer -> Select Back up my Settings. Now all you need to make sure is that the External Drive is been selected in the next tab and now choose Back Up to Device.
Step 6: Last but not the least, now that all the data is been transferred to the External Drive, Detach it from your Xbox One and Connect it to your Xbox One X when its Off.
Step 7: Start your Xbox One X and you will be prompted a Message to retrieve the data and update your Xbox One X after the initial boot of your console.
2: Using Home Network – Transfer Data To Xbox One X
With the help of this process, you will be able to transfer the data from Xbox One or Xbox One S to Xbox One X with the Home Network. The process is useful when you don't have a External HDD.
Step 1: The most important step is to Set both the Xbox One and Xbox One X on the same network. No matter if the connection is wired or wireless.
Step 2: Now get to System in System Menu and get to Back up and Transfer tab.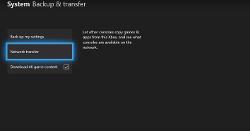 Step 3: Select Network Transfer and choose the data that you need to transfer.
Step 4: Now get to Copy Selected and choose where you want to transfer and press Copy to start the transfer.
Note: If you want to check the transfer you can get to know about it from the Queue option.
That's all for this guide on how to Transfer data, games, and apps from Xbox One to Xbox One X. Stay tuned for more amazing guides on Xbox One X. Till then do refer to our other guide on Xbox One X FAQ.