Zangief Moves List, Unique Attacks, Special Moves and Critical Art in Street Fighter V
Zangief is one of the 16 fighters in Street Fighter V and all set to fight against the brand new attacks and additional techniques, abilities there are few Skills which are added such as V-Skills, V-Reversals, and V-Triggers. The game also features interactive arena, showcasing special animations when a player is defeated in a certain part of the arena. Here is the complete Data for Zangief and his Attacks.
Zangief – Iron Cyclone
Zangief is a Russian Hero who made his debut in Street Fighter II. He is One of the Tallest Fighter in the series. He is Proud of his Physics and mostly been portrayed as a very fearless and tactical fighter who is prone to quick temperaments and is always very competitive.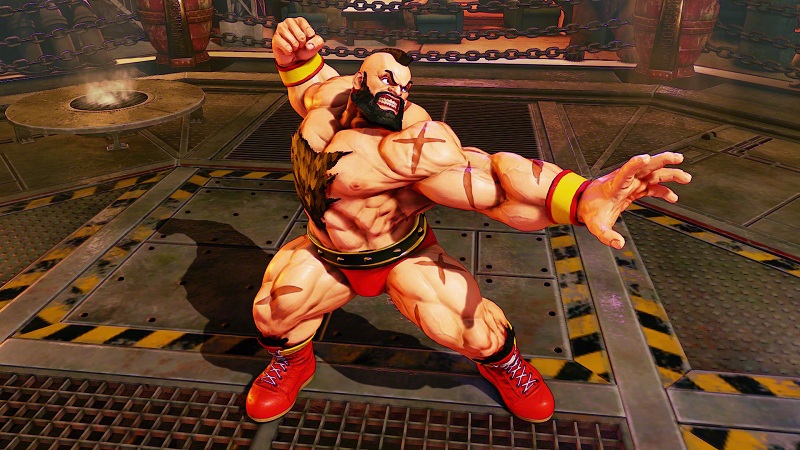 Info Card
Skills: Resistance To Cold
Occupation: Pro Wrestler
Fight Style: Mix of Russian and American Pro Wrestling

Power: 5/5
Range: 3/5
Health: 5/5
Mobility: 1/5
Technique: 2/5
Moves List
Normal Throws
Atomic Drop – (CLOSE TO OPPONENT) Forward or N + LP LK
Captured – (CLOSE TO OPPONENT) Back + LP LK
V-Skill
Iron Muscle – MP + MK (CAN MOVE FORWARD WHILE HOLD BUTTONS)
V-Trigger
Cyclone Lariat – HP + HK (HOLD BUTTONS TO PERFORM A SPECIAL LARIAT)
V-Reversal
Muscle Explosion – (DURING GUARD) Forward + All Kicks
Unique Attacks
Head Butt Forward + HP
Knee Hammer – Forward + MK
Flying Body Press(DURING FORWARD JUMP) Down + HP
Special Moves
Screw Pile Driver(CLOSE TO OPPONENT) Circle + Punch
Double Lariat – All Punches
Siberian Express – Half Down Left + Kick
Borscht Dynamite(DURING VERTICAL OR FORWARD JUMP) Circle + Punch
Critical Art
Bolshoi Russian Suplex(CLOSE TO OPPONENT) Circle + Circle + Punch
Legends:
Forward –
Charge Forward –
Backward –
Charge Backward –
All Punches –
All Kicks –
Down Right –
Down Left –
Up Right –
Up Left –
N –
LP –
MP –
HP –
LK –
MK –
HK –
Quarter-Right –
Quarter-DownRight –
Quarter-Left –
PLAY –