Official The Last of Us: Remastered Screens in 1080p Coming Soon, Cross-Multiplayer Feature Between PS4/PS3 Confirmed: Updated
Just few hours ago some screenshots of The Last of Us was leaked on internet via Korean website, it was rumored that those screenshots were from The Last of Us: Remastered port for PS4. No official confirmation arrived from Naughty Dog, but Arne Meyer via NeoGaf did hinted that those are from PS4 port of The Last of Us.
Quentin Cobb, Game Designer at Naughty Dog has assured via Twitter that they will be releasing official screenshots of The Last of Us: Remastered very soon, but decline to comment whether those leaked screens are of The Last of Us: Remastered.
"We're going to release official screenshots of #TLOUPS4 soon." tweeted Quentin.
In another news, the source of leak i.e "Korean Website" posted a full press-release detailing other key details of The Last of Us: Remastered as well. The press-release confirmed that The Last of Us: Remastered  will have Cross-Multiplayer feature i.e PS4 owners will be able to play multiplayer with Playstation 3 owners. Here is what the translated text reads:
Will be released on July 29, "The Last of Us  Remastered" is actively PS4  improved performance was completed utilizing a high resolution of 1080p. Additional expansions released "Left Behind" and multiplayer-only map pack also includes all additional difficulty, and inserted in-game cinematic video game director and all the actors appeared to be higher in a special commentary is localized. In addition, the PS3  users and also supports multiplayer cross.
UPDATE:
It seems like there was some issue in translation and also Korean website has addressed this cross multiplayer feature support. Here is an updated press-release from the website which now states that No Cross Multiplayer. Naughty Dog developer also came into the  thread over at NeoGaf to ask people to read it properly and not base it on a translation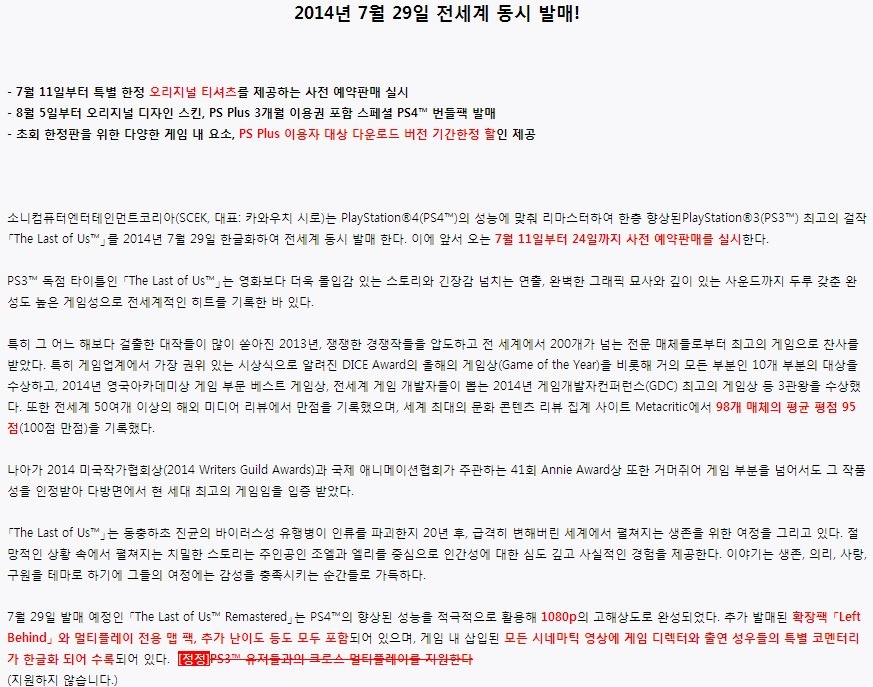 You can check out the leaked screenshots of The Last of Us: Remastered in 1080p here. The game is scheduled to launch on July 29.