GTA V PS4 vs Xbox One Comparison Gifs Shows Startling And Noticeable Differences In Foliage & Draw Distance: Updated
Yesterday, Grand Theft Auto V launched on PlayStation 4 and Xbox One. Immediately after its release, numerous big gaming media outlet carried out stories like GTA V PS4 vs Xbox One comparison screenshots and videos with a conclusion that both versions looks "Identical To Each Other". These initial comparison of GTA V PS4 vs Xbox One were RUSHED, according to report coming out from NeoGaf.
The graphics/visuals difference between Grand Theft Auto V PS4 vs Xbox One version is pretty "Noticeable and Startling", at least in the case of "FOLIAGE". A user on NeoGaf shared three GTA V PS4 vs Xbox One Gifs showcasing FOLIAGE difference.
Here is a side-by-side GTA V PS4 vs Xbox One Foliage Comparison screenshot: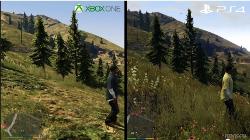 Clearly, GTA V PlayStation 4 version has much better Foliage and Draw Distance as compared to Xbox One version. GTA V runs at 1080p/30FPS on both PS4 and Xbox One.
Updated:
More Comparison Gifs arrived in 1080p: Xbox One version is the one where character is wearing Black Shirt.
Update 2:
Our friend at Digital Foundry finally shared a direct feed GTA V PS4 vs Xbox One Foliage comparison video, watch it below now: