Call of Duty 2015 will be called as "Call of Duty: World At War II", and the official reveal will take place on May 4, 2015 at 10AM PDT/1PM EDT, according to details in an alleged teaser poster that was leaked online a few days ago.
The image was posted by Twitter user Anonymous Protection, you can check it out below, it states that the reveal will be "Presented by Xbox". Whether this poster is Legit or Fake, we leave it to you to decide.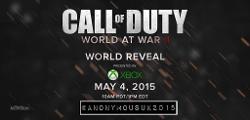 Call of Duty series now follows cycles developers pattern, in order to keep to an annual release schedule without restricting or affecting development time. According to this so called patter, Call of Duty game which will launch in 2015 is coming from Treyarch.
In 2008, Treyarch worked on Call of Duty: World at War, and recently the studio teased a return to World War II setting via a post on Facebook Page. In December 2014, Treyarch posted a link to the Wikipedia Page for the attack on Pearl Harbour, along with the quotes of Franklin D Roosevelt, on the anniversary of the event.
So, if this recent teaser poster is legit/accurate, there's a good chance that Call of Duty series fans will hear more about Call of Duty: World At War II between now and May 2015.