The Witcher 3 PS4 Pro Update Not In Development, CDPR Focusing On Cyberpunk 2077 and Gwent Card Game
Sad news for The Witcher and PlayStation fans, CD Projekt Red has made it pretty clear that currently, they have no plan for giving The Witcher 3: Wild Hunt a PlayStation 4 Pro treatment. This comes as a shocker considering the fact that some developers have already confirmed their upcoming games for PS4 Pro, for example, Titanfall 2, Horizon: Zero Dawn, and previously released titles as well such as Black Ops III, Uncharted 4, The Last of Us Remastered.
So what exactly are the circumstances that are holding CD Projekt Red back? When asked by a user on Reddit (via Email), CD Projekt Red replied that the studio is currently working hard on GWENT: The Witcher Card game and Cyberpunk 2077.
"Thank you for your feedback and question. I'm afraid that we have no plans to release the PS4 Pro edition for The Witcher 3:Wild Hunt", the e-mail reads.

"Our team is currently working very hard on GWENT: The Witcher Card Game and Cyberpunk 2077. We want to be entirely focused on the development of these projects."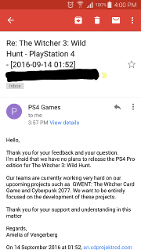 Update:
I got in touch with Marcin Momot, Community Lead at CD Projekt Red for official confirmation on PS4 Pro update for The Witcher 3 and this is what he said:
@ShaikhSehran No update coming. We're focusing on @PlayGwent & @CyberpunkGame now.

— Marcin Momot (@Marcin360) September 17, 2016