New Clue In Red Dead Redemption 2 Trailer Suggests Leaked Map Is Legit
The hype surrounding Red Dead Redemption 2 reveal/announcement has finally settled down. Rockstar Games has released a debut teaser trailer of Red Dead Redemption 2 which gives a short glimpse (but a stunning one) at the world the game is going to take place. Were there any hidden secrets or details? Reddit user yuv912 has discovered a big clue which indicates that the leaked Red Dead Redemption 2 map might be legit.
If you guys can recollect properly, a Neogaf user named "Mideon" posted a map image and titled the thread as "New Red Dead Map Leaked?" (later on, he was asked to take down the map, we have it below for you). Yuv912 has discovered a sequence in the trailer that matches perfectly with a part of the leaked map. You guys can check out the side-by-side comparison screenshot below.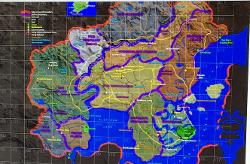 "Not only are both the train tracks and the farm visible but the "Cumberland Forest" area of the map appears to begin just north of the farm which is also clearly the case in the screenshot," says Yuv912. Also, the Grizzlies in the background makes it very difficult for you to ignore the fact presented by the Reddit user.
What do you guys think? Share your opinion with us in the comment section below.