Get $250,000 Game Cash in GTA Online for Free
Celebrating 3 years of GTA Online, Rockstar brings a huge surprise for gamers. You can now get $250,000 GTA Game Cash with 30% discount on selected items. Bonus amount will be deposited to Maze Bank account till 4th of November on PlayStation 4, Xbox One or PC. All you need is to log into to GTA online before 31st October. Other than game cash bonus, there is huge discount on wide range of vehicles, weapons, fan-favorite item, etc. The offer lasts till 7th November, 2016. 
The image below shows list of fan-favorite items you can get on 30% discount.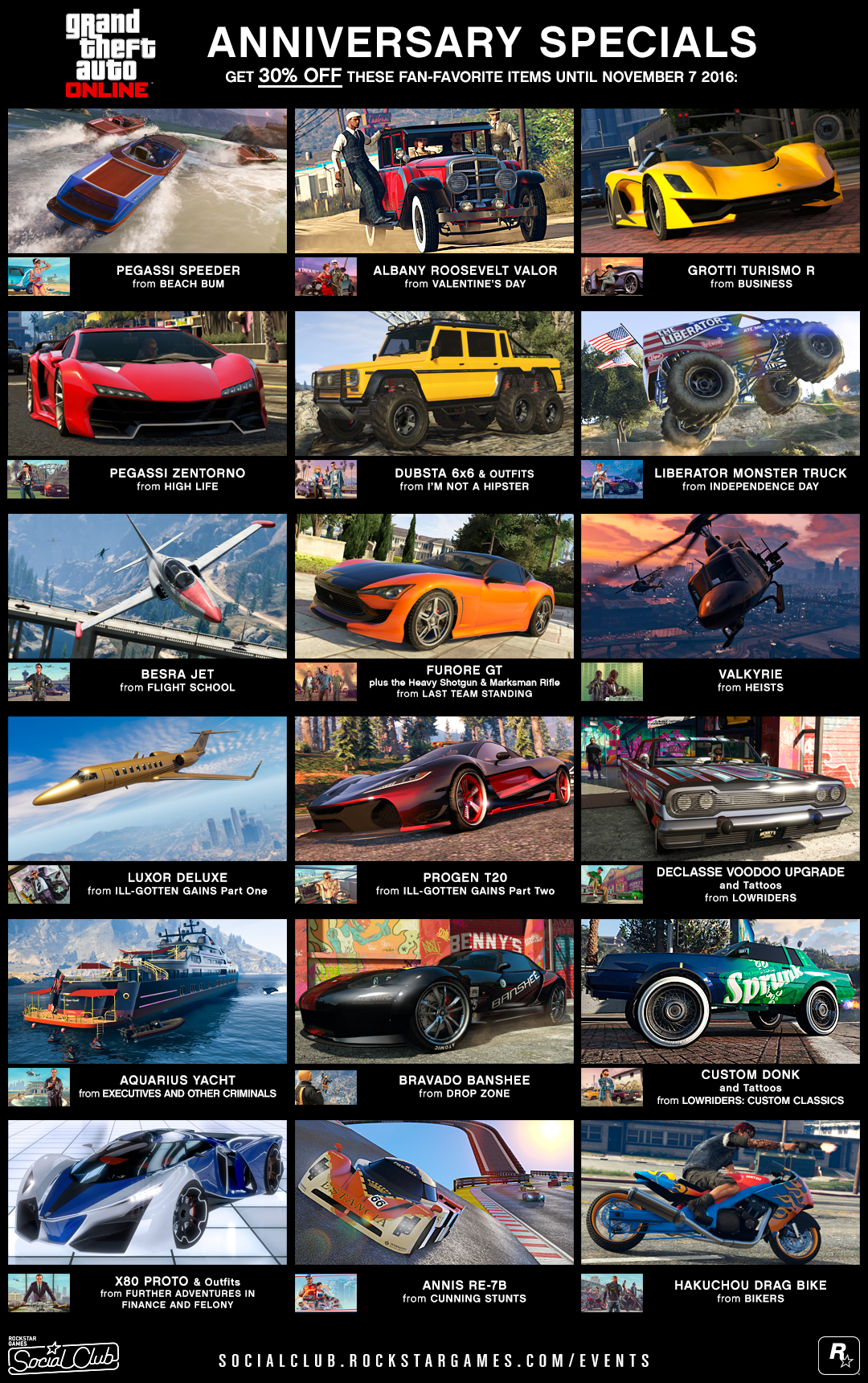 Premium Race between 25th to 31st of October.
​An addon race will be hosted till end of this month over Downtown Los Santos. Get a chance to get some payout if you reach top 3.
Updates Info: Click here to read more on official Source
BY LAND
Grotti Turismo R (Super) 
Grotti X80 Proto (Super) 
Pegassi Zentorno (Super) 
Progen T20 (Super) 
Annis RE-7B (Super) 
Bravado Banshee (Sports) 
Lampadati Furore GT (Sports) 
Voodoo Custom (Muscle)
Willard Faction Custom Donk (Muscle)
Benefactor Dubsta 6x6 (Off-Road) 
Vapid Liberator (Off-Road) 
Albany Roosevelt (Sports Classics) 
BY AIR
Western Company Besra
Buckingham Valkyrie 
Buckingham Luxor Deluxe
BY SEA
Pegassi Speeder 
The Aquarius 
WEAPONS
Heavy Shotgun 
Marksman Rifle 
CLOTHING & TATTOOS
Outfits: Hipster 
Outfits: Finance & Felony 
Tattoos - Lowriders
Tattoos - Lowriders: Custom Classics