Days Gone Releasing On December 29, 2017 - Leaked Accidentally or Just A Mistake?
It seems like official PlayStation YouTube channel has leaked the exact release date of Days Gone, the upcoming PlayStation exclusive game from Sony Bend. Days Gone was first announced at E3 2016 and then it vanished completely from the gaming scene, might have been a marketing trick from Sony to go completely quiet after showing a stunning gameplay demo. The second appearance of Days Gone came at E3 2017 and once again Sony showcased a new gameplay demo, and went quite, no other update: neither release date or release window.
PlayStation YouTube channel today posted a new video with the title: The Hottest Trailers of E3 2017: Shadow of the Colossus, Spider-Man PS4, God of War, and More, and in it December 29, 2017, is listed as the release date of Days Gone. You can check out the screenshot below. We have posted the trailer as well, you can confirm it by fast-forwarding to "2:14" (UPDATE - Video REMOVED).
Is this is a mistake? We can't rule of this scenario, but then we also have to take into consideration the fact that this is coming from an official PlayStation YouTube, so this might be an accidental leak as well. At E3 2017 press conference, Sony shared no update on the release date of Days Gone. It seems like we have to keep our finger cross and hope that the game does come out in 2017 because first-party PlayStation exclusive line-up for the all important Holiday Season 2017 looks a bit weak.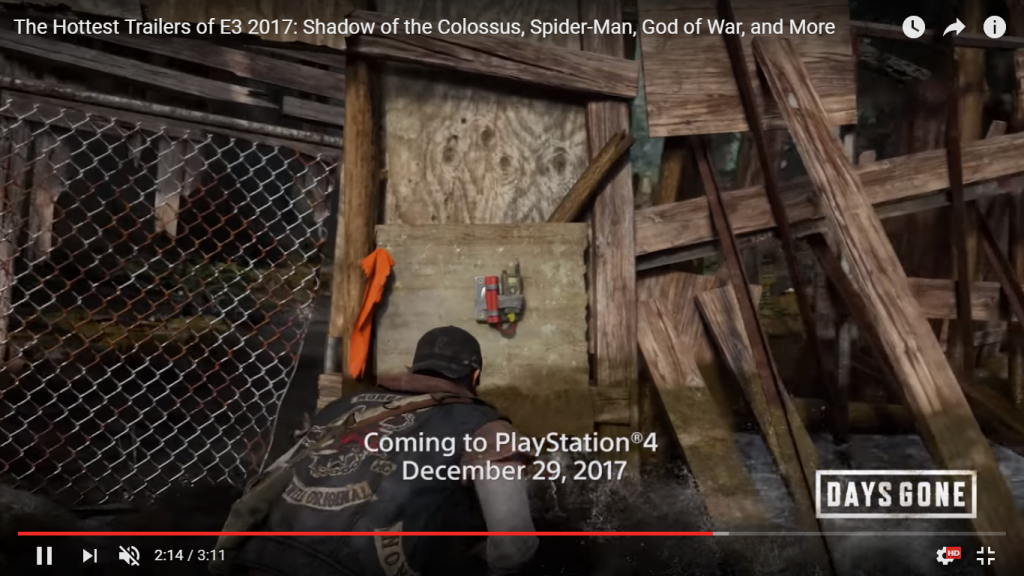 What do you guys think about this new release date listing for Days Gone? Share your opinion with us in the comment section below.