Monolith: You Can Play Shadow of War Offline, Explains Where Internet Connection Required
Yesterday, there was a big controversy on internet related to Middle-earth: Shadow of War, and it was started with a misreporting from one of the publication that the game requires an internet connection to play (no offline play). As mentioned above, the publication misreported things, the information that Warner Bros Community Manager shared on the official forum was nothing of that sorts.
As soon as the post (wrong information) went viral that Shadow of War needs an internet connection to play, fans started demanding a clarification from Warner Bros because Shadow of War does not have any true multiplayer feature and so why the development team is putting up this "Requires Internet Connection" to play restriction.
But the damage was already done, and Monolith (the developer behind Shadow of War) finally issued a clarification via game's Discord channel. Monolith stated that the Internet Connection Requirement is only limited to accessing the market, and it is a must for anything that's an online feature. You guys can check out the full Q&A on it below.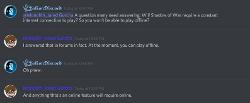 When asked: A question many need answering: Will Shadow of War requires a constant internet connection to play? So you won't be able to play offline? Monolith_Jared Gotcha replied: "In answered that in forums that in fact. At the moment, you can play offline." and added: "Any anything that's online feature will require online."
Shadow of War is scheduled to launch on October 10 for PC, PlayStation 4 and Xbox One, it was delayed from August 2017 to October 2017 for a specific reason. It will run at 4K/30FPS on Xbox One X. Resolution and FPS for PlayStation 4 Pro is not yet decided.