WWE 2K18 On Nintendo Switch Will Support Just 6 Character On Screen At Once, 8 Characters On PS4/XB1
WWE 2K18 announcement for Nintendo Switch was possibly the best thing Nintendo fans heard in 2017 (so far). It was a special occasion because WWE 2K18's Nintendo Switch debut marks the first time in five years that a new WWE video game will be available on a Nintendo platform. We expected WWE 2K18 to a bit different than PlayStation 4 and Xbox One versions, obviously because of the hardware design of Nintendo console.
Today, Nintendo updated the WWE 2K18 Nintendo Switch announcement page with one of the few differences that we will see. According to the details shared by 2K, the Nintendo Switch version of WWE 2K18 will support 6 characters onscreen at once.
How is this different than PlayStation 4 and Xbox One version of WWE 2K18? it's 8 characters on-screen at once. What other differences are there? to find this out we have to wait a bit more as 2K is the only one which is going to tell us, and it's all up to them to decide the date, time and place for the announcement, but Nintendo fans should not worry too much considering the fact that 2K has promised to add all the important/major features like MyPlayer mode, and the new Custom Match option.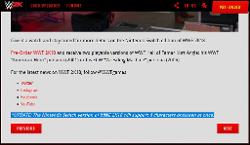 WWE 2K18 is scheduled to launch on October 17, 2017, for PlayStation 4, Xbox One and Nintendo Switch. The game looks absolutely stunning as compared to last year's iteration, take a look at few WWE 2K17 vs WWE 2K18 Comaprison Screenshots and Video.