How To Download Knack II For Free Right Now [Glitch]
Knack 2 is scheduled to launch worldwide on September 6 and it carries a price tag of $40. However, due to a glitch or bug in PlayStation Store, Knack II is currently available for free of cost in New Zealand, Australia, and Russia via PlayStation Network. Multiple users on Reddit has confirmed it, if you want to be among one of these select few lucky ones that got access to full Knack 2 game for free of cost then follow the steps provided below.
How to download Knack 2 for free
Step 1: Create a new PlayStation Network Account with New Zealand mentioned as the region (no need to create it if you already have it). Do provide a valid Email ID Address as there is a possibility that you might get a verification link on it. In short, follow proper procedure while making the new PSN account with New Zealand as the region.
Step 2: Go to PSN Store and search KNACK 2. From the list of search results, look for Knack 2 full game, the price will be listed as "0.00 or FREE". Make sure that you don't go for a KNACK 2 Demo. Look for a regular edition (as shown in the image below) and buy it for free.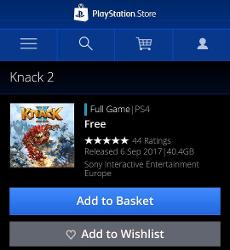 Step 3: Once the buying process is complete then Download the game and login with your recently made New Zealand account on your PSN.
Be as quick as possible because Sony is surely going to fix this bug/glitch as soon as possible. Knack II is developed by SIE Japan Studio. In it, players control eponymous character Knack, who has a wide range of combat abilities such as change size, deflect projectiles using a shield, punch, kick, and others. Each ability of Knack can be upgraded using Relic Energy which is found in different levels in the game. The best part is that Knack II can be played in co-op mode.