Call of Duty: WWII Xbox One X Enhancements Confirmed - 4K Resolution And HDR Support
Activision and Sony have signed a marketing agreement for Call of Duty video game franchise which means all upcoming Call of Duty games is going to be advertised on PlayStation console. This means we have to wait right till the end to get all the minute information (officially) about Call of Duty: WWII (this year's Call of Duty game) Xbox One version (PlayStation's rival version) such as whether or not Call of Duty: WWII will be enhanced for Xbox One X? We have not yet received an official confirmation about it. However, Retailer GAME recently updated their Call of Duty: WWII listing for Xbox One confirming that the game is indeed going to be enhanced for the Xbox One X. You guys can check out the updated box art of Call of Duty: WWII below confirming the details.
For those who are unaware of what exactly to check on the box art - box art of games that will be enhanced for Xbox One X carries a 4K and HDR (High Dynamic Range) icons. Expect an official announcement from Activision or Slegehammer Games just only few days ahead of the game's launch - not before that.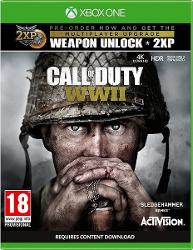 Call of Duty: WWII is scheduled to launch worldwide on November 3, 2017. It is the first game in the series to be set during the World War II since Call of Duty: World at War which was released way back in 2008. The single-player campaign is set around a squad in the 1st Infantry Division, and follows their battles in the Western Front, whereas multiplayer portion of the game is set on different fronts, completely different from the campaign. The Zombies mode also makes a return, and this time around in a big way.
Source: GAME