Bungie offers an update on Destiny 2: Forsaken's controversial new Annual Pass
Bungie has offered more details on what to expect from Destiny 2's upcoming Annual Pass, which is a paid pass on top of the major Forsaken expansion set to release on Sept. 4.
When Forsaken and the Annual Pass were announced on Tuesday, some players were up in arms about having to pay for additional content on top of the $40 expansion. Bungie game director Christopher Barrett offered more info in a blog post today.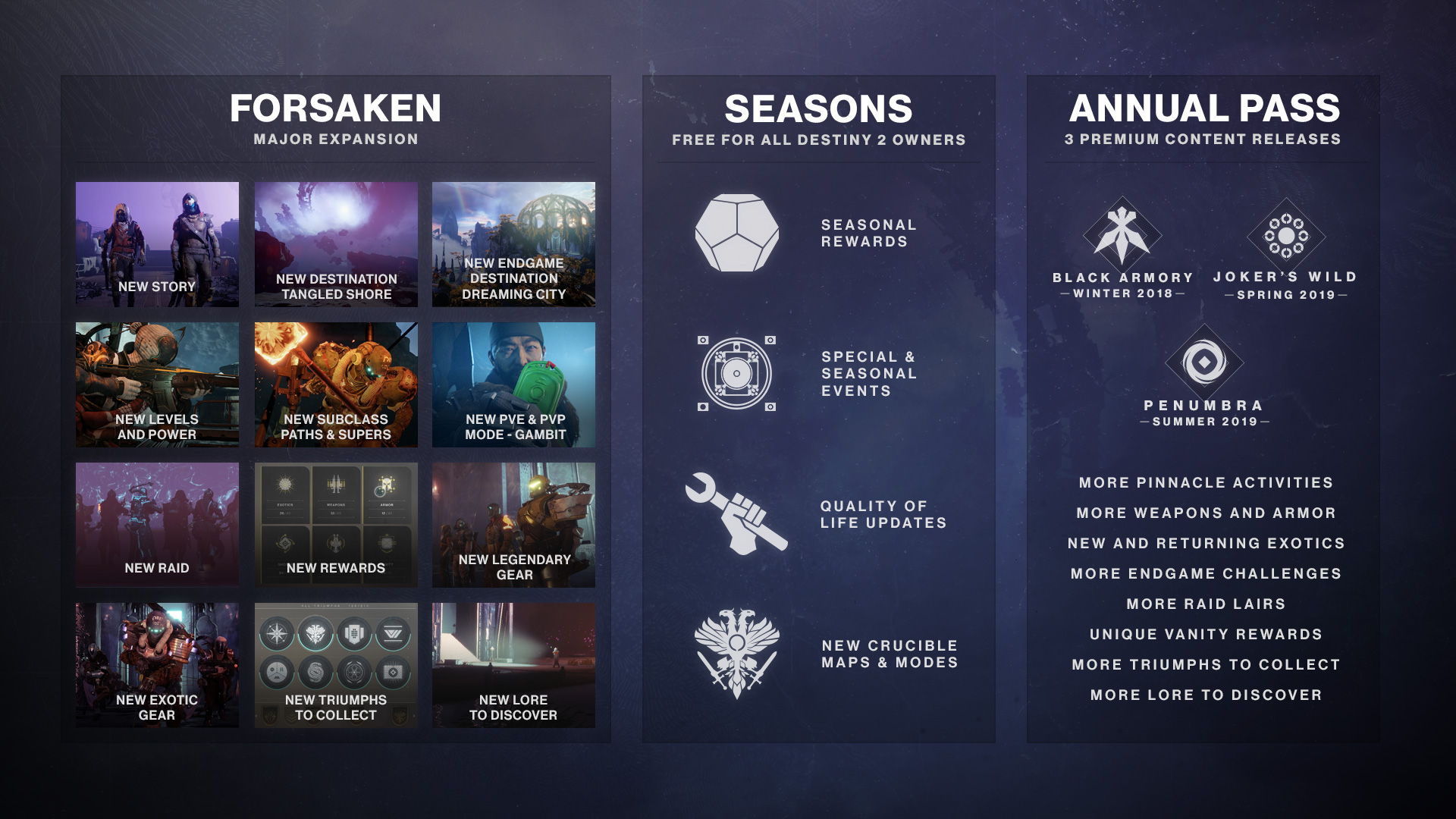 "Destiny 2 Year 2 begins with Forsaken, and throughout that year we're going to be focusing our teams on delivering content that gives players reasons to come back to Destiny," Barrett said. "This means new activities, endgame challenges, progression systems, and awesome rewards. With the Annual Pass, we want to deliver content more frequently throughout the entirety of Year 2, with three releases in Winter, Spring, and Summer."
The above graphic better clarifies what is available in the Forsaken expansion, Destiny 2 Seasons, and the Annual Pass. While both the pass and the expansion are paid, Seasonal updates will be completely free for anyone who owns the game.
"In addition to everything new in Forsaken and the Annual Pass, we're continuing to fully support Seasons and deliver updates to all players of Destiny 2," Barrett said. "During each Season, all players can expect new rewards to earn, new Crucible maps and modes, improvements to gameplay features, recurring activities, special events, and more."
The Annual Pass seems aimed for the true hardcore players of the game, as it will continue to offer content well into 2019 after Forsaken's campaign and endgame activities have run dry. It's meant to run the game as a live service for those who have made Destiny a hobby.
Many will say that additional content like the Annual Pass should be made free or available to all players, but Bungie thinks that the pass is different enough from the game's original Season Pass, which offered two small-scale story expansions, to justify the price.
In any case, Destiny 2: Forsaken will release on Sept. 4 for PC, PlayStation 4, and Xbox One. The expansion is available for $39.99, while a bundle of Forsaken and the Annual Pass is available to pre-order for $69.99.