Once again, Bethesda hosted a press conference for E3 2018, and the publisher brought plenty of surprises: The Elder Scrolls VI, Fallout 76, and Doom: Eternal all featured among others, making for quite an interesting Sunday night event.
This year's Bethesda E3 showcase had a running theme behind it, called "create." Of particular note, Bethesda revealed games launching in both 2019 and later on for next-generation consoles, including Starfield and The Elder Scrolls VI. Here's everything Bethesda discussed during the conference.
Rage 2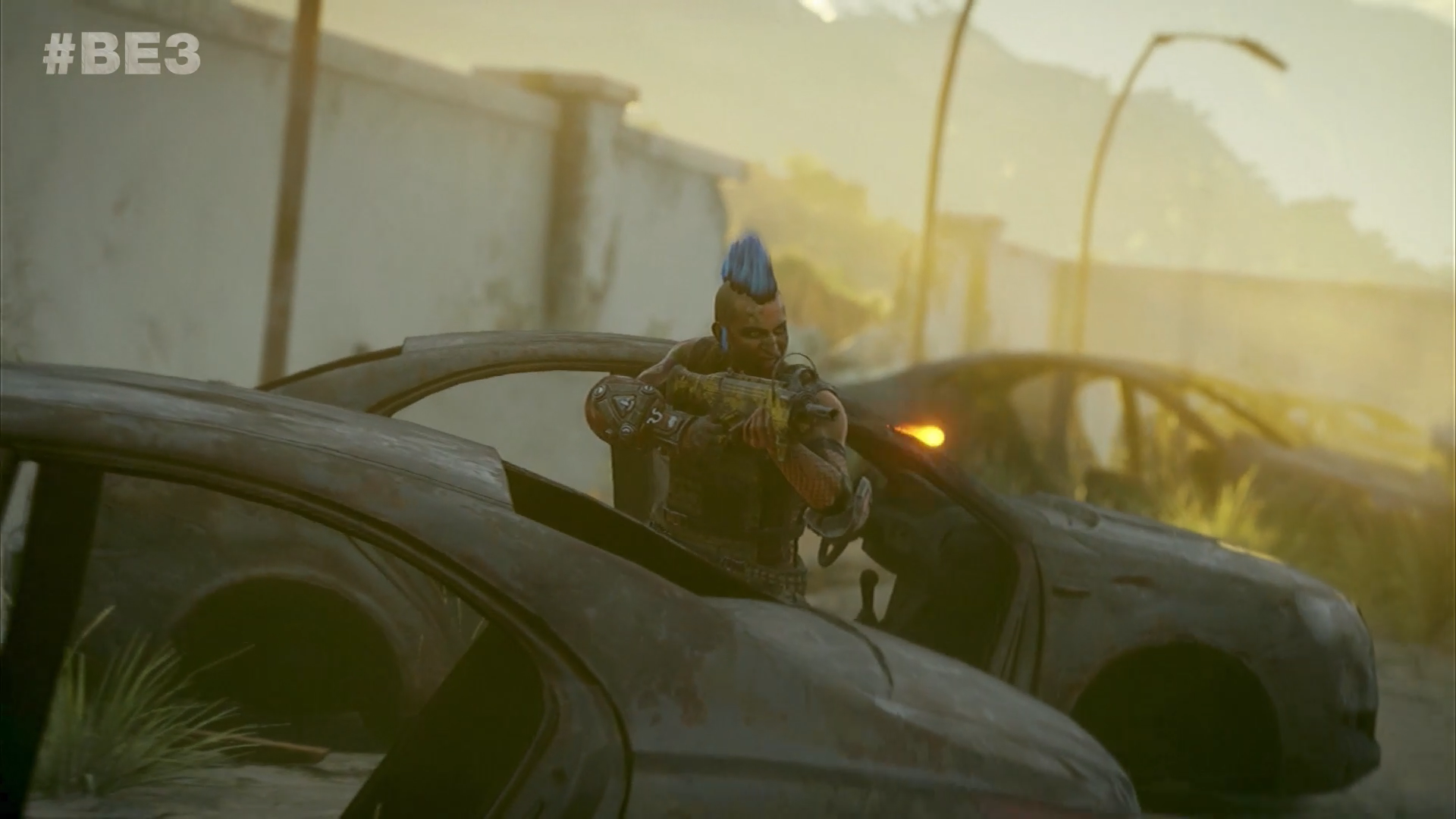 After a quick performance from Andrew W.K., the night opened with a worldwide premiere focused around Rage 2's gameplay. Players fight through a seamless open-world apocalyptic setting as the last Ranger, who fights through the world after an asteroid crashed into Earth and killed 80 percent of the world's population.
Rage 2's E3 2018 trailer showed off the Eden Space Center mission, where players fight their way through enemies while driving a vehicle and fighting back against enemies. Expect plenty of guns, gore, and explosions when the full game launches in Spring 2019.
The Elder Scrolls: Legend
The Elder Scrolls Legend is getting a redesign and will be available on Nintendo Switch, Xbox One, and PlayStation 4 later this year. The game is already playable on PC, mobile, or tablet, and any progress made on those editions will carry over to the game's upcoming console releases.
The Elder Scrolls Online: Summerset
The Elder Scrolls Online received a new trailer for its latest expansion, Summerset. The clip showcased some of The Elder Scrolls Online's previous DLC packs as well alongside what players have accomplished in the game's worlds.
Doom: Eternal
Bethesda revealed Doom: Eternal, a sequel to 2016's Doom reboot. Doom: Eternal takes place on Earth, which has been ravaged by Hell's forces after the previous game's events. The game promises to bring additional powers to the Doom Slayer along with "twice as many" demons as the original Doom. The game also seems to be inspired by 1994's Doom 2, which returned to Earth after the initial Mars invasion.
More information on Doom: Eternal will be revealed during QuakeCon 2018, which begins Aug. 9 and runs until Aug. 12.
Quake Champions
While Quake Champions is still in Early Access, the game will be available at both DreamHack and Gamescom. A trial for the free-to-play version launches this week, and anyone who downloads the game during E3 2018 can keep playing after the expo. To get started, head over to Quake's official website.
Prey: Mooncrash
Prey is receiving a free update tonight, June 10. This includes three new game modes: Story Mode, New Game+, and Survival Mode. The reveal came with a new trailer for Prey: Mooncrash, where players fight to escape the Moon through an endless gameplay run. All four DLC additions are available now.
There's also an upcoming update in the works for Prey called Typhon Hunter, which is a one-vs-five Prop Hunt gameplay format where one player tries to survive against five different mimics, who can become inanimate objects based around the game's environment. That update is planned for later this summer.
Wolfenstein: Youngblood
Moving away from B.J. Blazkowicz, Wolfenstein: Youngblood casts players as B.J.'s twin daughters Jess and Soph as they resist the Nazis during 1980 in Paris.The game is a co-op experience, so two players can fight alongside one another against the Third Reich.
Prey: TranStar VR
Prey's upcoming VR experience pits players as TranStar employees working together to accomplish puzzles throughout Prey. The VR game mode launches later this year.
Wolfenstein: Cyberpilot
Wolfenstein: Cyberpilot is a VR game where players serve as a hacker in the resistance who tries to break into Nazis' machines in order to sabotage the Third Reich. Expect Cyberpilot in 2019.
Fallout 76
Todd Howard, Bethesda Game Studios' executive producer, walked onto the stage to talk about Fallout 76. The game serves as a prequel to previous Fallout titles and is "four times the size" of Fallout 4.
Taking place in West Virginia, the player serves as one of the first people to reach the surface and walk through the apocalyptic wasteland left by the Great War that ravaged the world. A gameplay trailer shows the player acquiring their Pip-Boy and walking out of Vault 76, after which they're greeted by West Virginia's expanse in the post-apocalyptic world. Fallout 76 features new rendering, lighting, and landscape technology, Howard explained, and the player will experience six distinct regions as they explore West Virginia and the American government's nuclear secrets.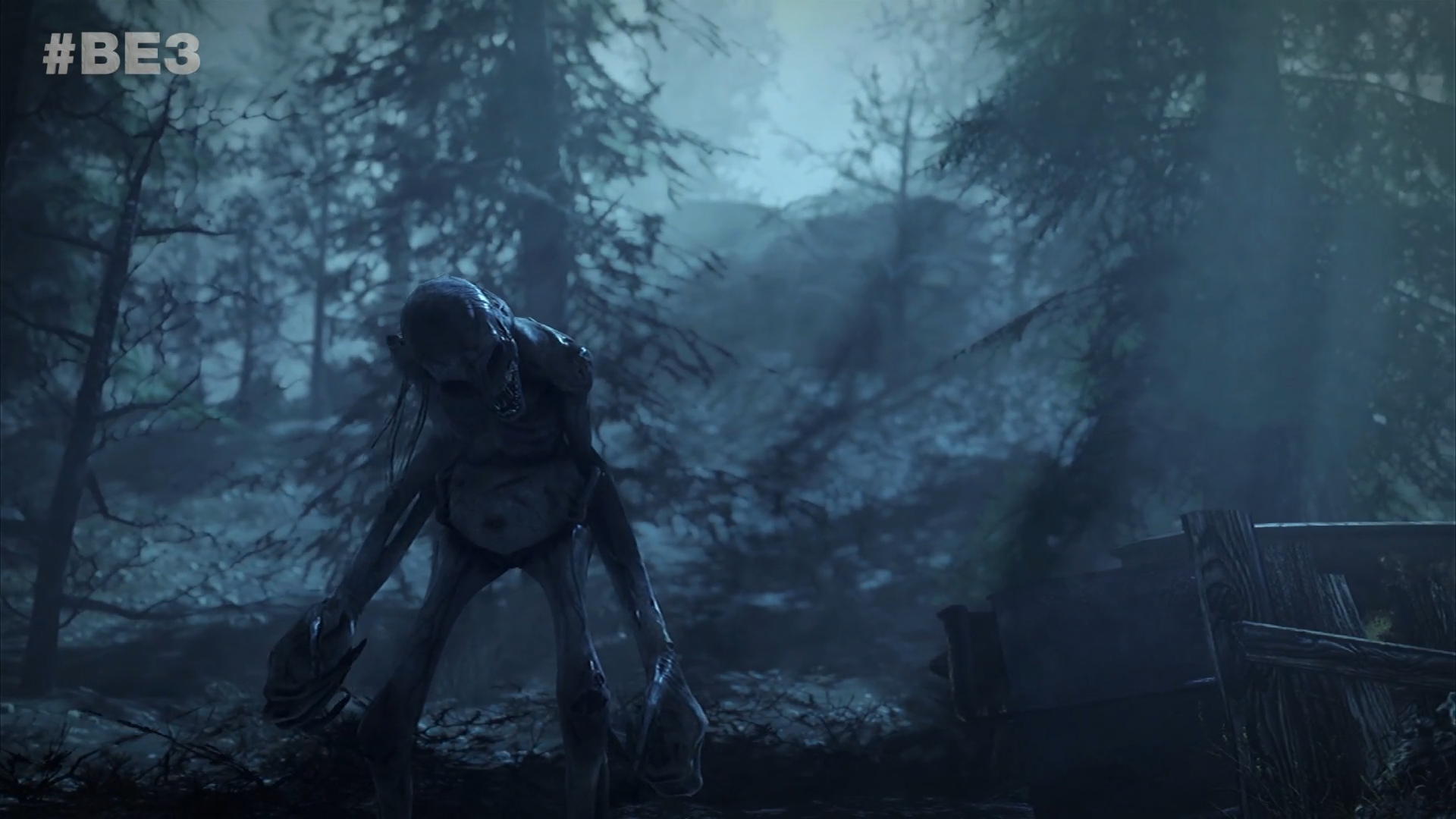 Related: You can already pre-order Fallout 76
Fallout 76 will be an online multiplayer title that focuses on open-world survival, with Howard calling it "softcore survival." Every character in the game is a real person, and there's no permadeath system. Dozens of players are in the game's world at a time, and players can experience the game on their own if they want to. There will also be crafting and building mechanics, similar to Fallout 4.
Expect Fallout 76 on Nov. 14, 2018. Fallout 76 Power Armor Edition is also available for preorder, and it comes with a duffel bag, a real-world T-51b Power Armor helmet, bonus digital items, collectible figurines, and a world map, among other goodies. The Power Armor Edition retails for $199.99, according to Best Buy.
Fallout Shelter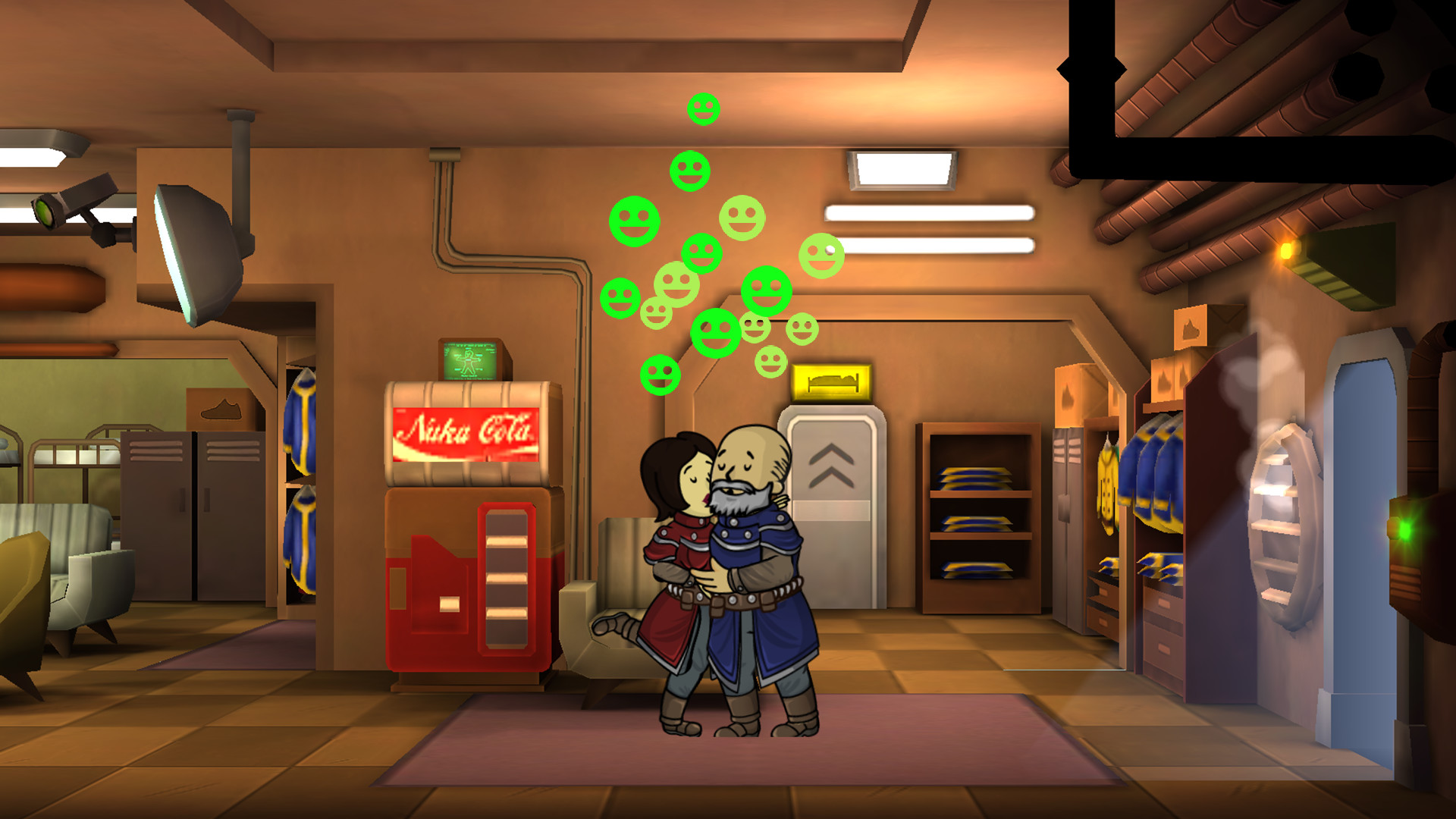 Fallout Shelter is coming to PlayStation 4 and Nintendo Switch. The game can be played with the Joy-Cons or touch controls on Nintendo's console. Both editions are now available.
The Elder Scrolls: Blades
The Elder Scrolls: Blades is a mobile first-person RPG designed for touch screens. Players engage in combat with timed swiping movements across the screen. The game features procedural dungeons, character creation, an inventory system, a level-up progression structure, and a town-building system, and the game can even be played in portrait mode.
Blades is intended for PC, consoles, virtual reality systems, and mobile. The game will be free, with preorders starting tonight for the iOS App Store and Google Play Store.
Starfield
Bethesda's Starfield is an upcoming science-fiction game for next-generation consoles. Little is known about the game so far, although it appears to take place in space and feature space travel.
The Elder Scrolls VI
Bethesda teased The Elder Scrolls VI with a quick glance at the game's setting. No details were given, although Howard hinted that The Elder Scrolls VI would launch after Starfield.