Twitch is giving away a ton of free games for Prime Day
In honor of Prime Day 2018, a 36-hour celebration of the giant company that is Amazon starting July 16, Twitch is giving away nearly two dozen games for free over the next two weeks. The colossal deal is available to Twitch Prime members.
Starting on July 2 trough July 17, there will be a new free game available each day. While the games are entirely free and yours to own, each game will have a limited time window—typically less than a week—for when they are up for grabs.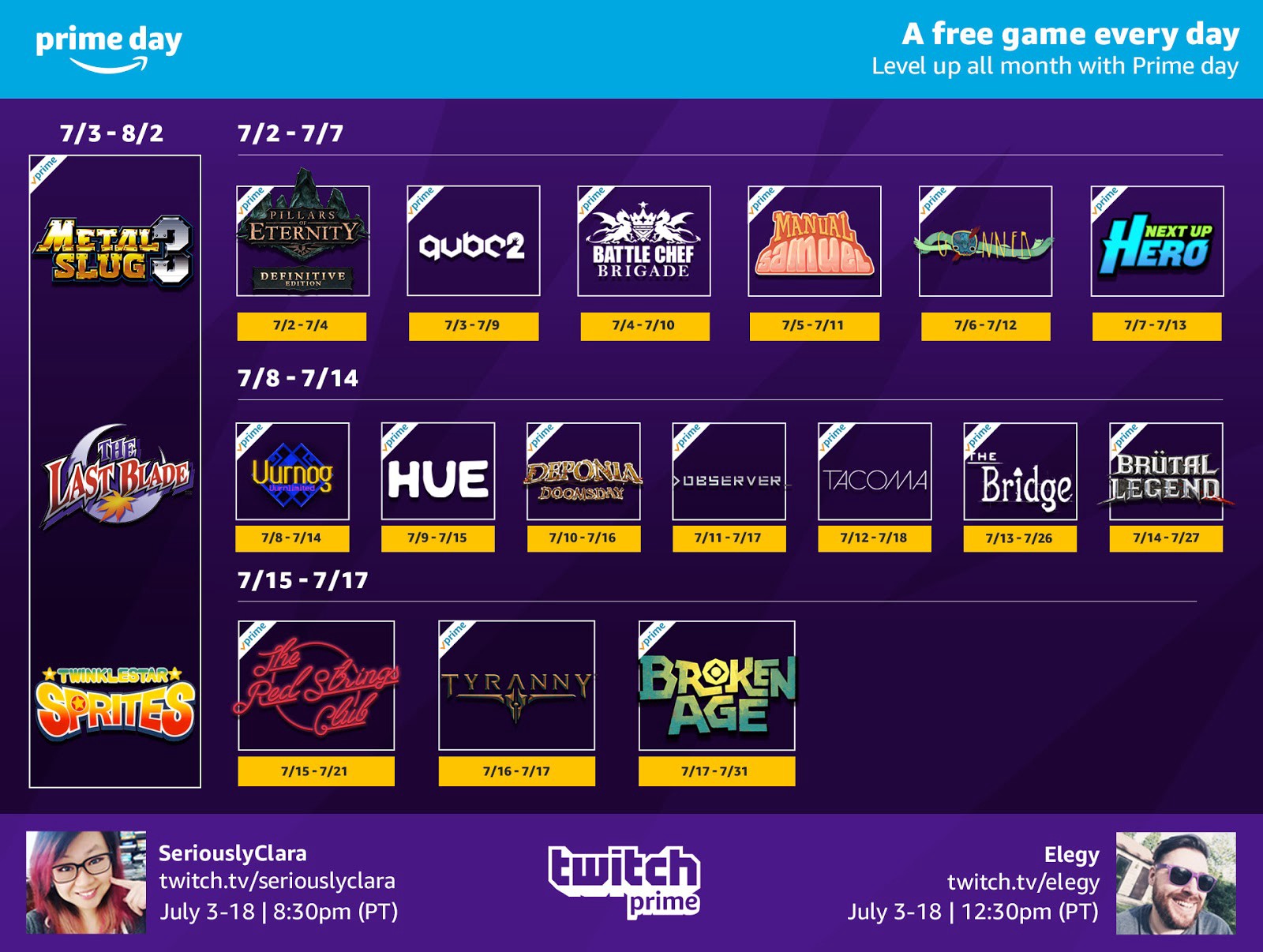 To kick things off, Pillars of Eternity Definitive Edition became free-to-play for Prime members yesterday. The event continues with all types of games over the next two weeks. Big and small. Meditative and action packed. Double Fine's heavy metal opus Brütal Legend. The addictive and strange roguelike Gonner. The recent high fantasy culinary quest Battle Chef Brigade. The Framed Collection and Serial Cleaner round out the free game marathon on July 18.
To showcase the content, Twitch will have several different streamers set up to broadcast during this time. Most notably, Thomas "Sodapoppin" Morris will be streaming today, July 10, and July 16. Fellow broadcasters SeriouslyClara and Elegy will be streaming the feature games every day during the Prime Day celebration.
In addition to Sodapoppin, Clara, and Elegy, Twitch has enlisted international broadcasters to stream the games. France, Spain, Germany, Japan, and Australia will each have their own featured streamer broadcasting several of the days during the event.
Prime members will get some extra perks on top of the free games, though. They will be able to sign up for Music Unlimited and stream ad-free songs for $0.99 for four months as well as having a 50 percent discount for the entire Twitch merchandise store. That discount is the largest in Twitch's history, and it can be redeemed at checkout.
Amazon is offering a 30-day free trial for new Twitch Prime users.