Amazon takes dig at Microsoft and Xbox One with negative consumer review at their STB reveal event
Online retail giant Amazon has just revealed their Set Top Box, "Amazon Fire TV" at a special event. It has a dedicated GPU, Quad Core processor, 2 GB RAM, supports voice control.
This are the only details we have for you right now, but the thing that caught our eye during Amazon Fire TV announcement event was a slide where the retailer took a dig at Xbox One.
Amazon took a dig at $60 price tag subscribers pay yearly to access their Netflix account. The slide featured a review of one Xbox One customer. It reads:
"You cannot access your Netflix account without paying $60 a year Xbox Live subscription fee. Not really sure who is going to pay $60 a year for a service they are already paying for".
Using a negative consumer review of their competitor's product at a reveal event of their own product, seems like Amazon is gearing up for a big fight with big guns like Microsoft.
They have already bought Double Helix Games, developer behind recently released Xbox One exclusive title "Killer Instinct" and is also rumored to be developing a gaming console based on Google's Android.
What do you guys have to say about this recent marketing gimmick of taking dig at Xbox One on the reveal event of Amazon Fire TV? Share your views with us in the comment section below.
UPDATE:
Read Everything you need to know about Amazon Fire TV in our info blowout article: "Amazon Fire TV Info Blowout: Hardware specs, comparison with other STBs, first party launch games and more"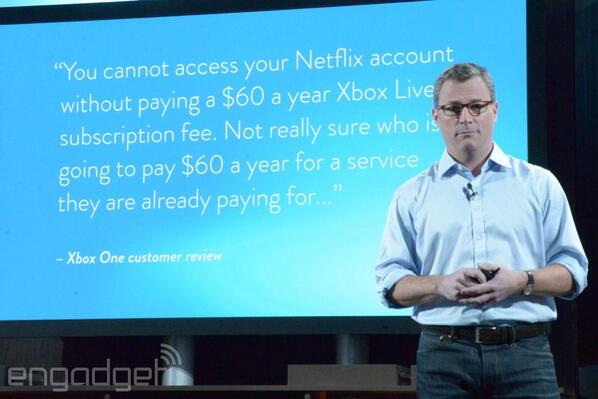 UPDATE 2: Back in 2013, this is how Sony played things smartly. Seems like Microsoft has no response to these amazing marketing strategy.