AMD Ryzen 1700 disappoints on GTA 5 leaked Benchmark against Core i7 7700K
Recently AMD announced three CPU under Ryzen flagship, 1800X, 1700X and 1700 to compete against Intel's high-end chips and offering desktop enthusiast the second option to build budget systems without compromising performance. Finally, there was a leaked benchmark shared on Reddit showing Core i7 7700K is anyhow stronger compared to the Ryzen 1700 chip.
The image shared below from the source shows GTA 5 running on 1920×1080. At 5 GHz on overclocking Core i7 simply outshine Ryzen 1700 a 3.0 GHz chip backed by 3.7 GHz on Turbo Boost. We were expecting this to be a closer margin instead of a very high difference in the performance part. Well there was a test video also on YouTube which was later removed. Still, user Space_Reptile has kept it uploaded on Google Drive that you can access by following link – AMD Ryzen 7 1700 vs. Intel Core i7-7700K GTA 5 Benchmarking Test Video.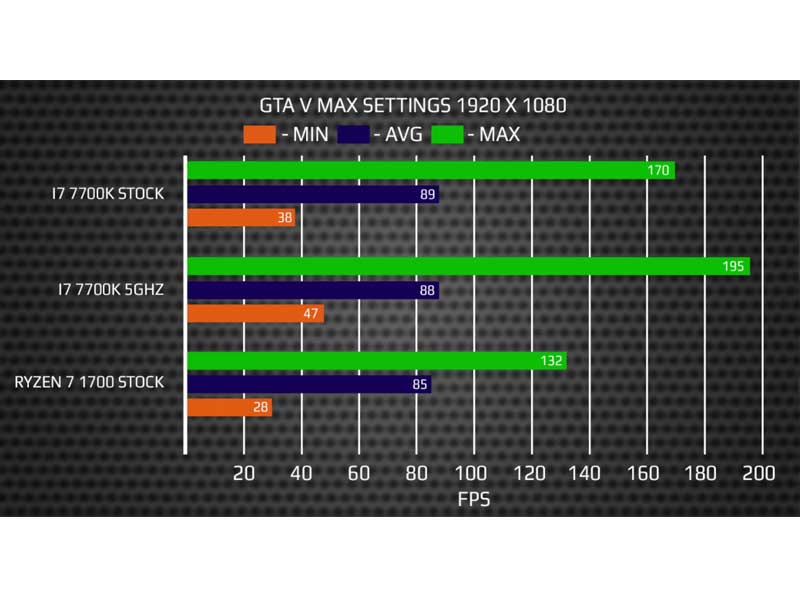 Ryzen 1700 was considered to be a Core i7-7700K alternative offering a near competition on the performance part. But the image above shows Core i7 is a clear winner when it comes to performance on the stock and overclocked state. The setup used was a Gigabyte Z270 board coupled with Nvidia GTX 1080 GPU for Intel and ASUS ROG Crosshair VI Hero for AMD. This could be the first public testing that shows Ryzen 7 1700 benchmarking performance is disappointing.