AMD Ryzen full product list and leaked price, starts with $129
AMD's exceedingly anticipated flagship CPU series is all set to release this year, but before we have some leaked information on the produce line-up as shared by WCCFTech. We had provided the source link at the end of this news.
Officially AMD has not revealed any list, we had covered a news recently based on a rumor that exclaimed about the exclusion of 6 Core CPU from the desktop targeted Rzyen Series, later proved erroneous after a new list leaked on the source news portal. The shared list below exposes approx 9 models, 4 belongs to Ryzen 7 with 8 Core 16 thread each, 2 falls in Ryzen 5 with 6 Core 12 Thread each and other 2 with 4 Core 8 Thread, concluded by 2 Ryzen 3 with 4 Core 4 threads each. The price factors seem here accurate, but still waiting for the official price list will finalize how well it can serve the consumers.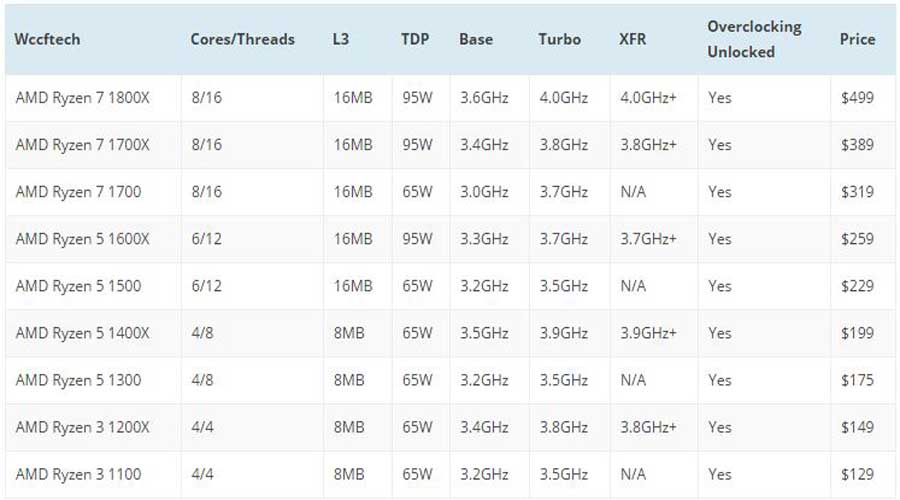 The leaked list shows three Ryzen 7 processor falling in the high end series with a base clock rate of 3.0, 3.4 and 3.6 GHz will cost between $319 to $499. And they also feature a slight turbo boost clock rate for higher performance. A mid range consists the highest amount of processors. This shows AMD is versatile to target mid-level gaming or performance system by introducing them between the costs of $175 to $259. Finally two under entry level Ryzen 3 falls between $129 to $149.
The prices seem to be competitive against Intel's 7th generation models if we take the high end series 1800X into consideration. Well there is not much difference, but AMD gives users choice to go with a chip that does not has turbo boost and pay less. While all of them are Unlocked, but what frequency they can hold can be uncovered only if it is tested well by hardware enthusiast.