AMD Ryzen Lineup shows 6 Core 12 Threads CPU, rumor or leak
AMD launched Rzyen at the end of last year as a competitive model against Intel's CPU. Now we found a list of CPU lineup shared by DVHardware. Well we cannot confirm whether this is an official list, but it gives a glimpse of CPU lineup that AMD is planning to release this year. Recently we had covered news on AMD planning to exclude 6 Core Processor from Ryzen Series in order to offer an affordable choice to buyers followed by its launch and server variants in Q2 2017.
The list shared by DVHardware shows the CPU model with its competitor's model: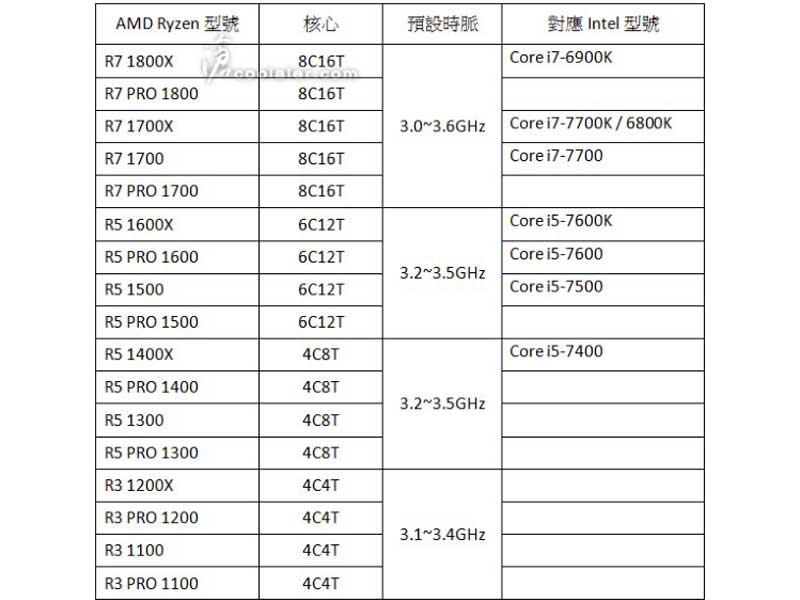 Above you can see there are three series as it was previously mentioned in many news. They are R3, R5 and R7. The R3 and R5 feature CPU that offers Core i5 level performance followed by the R7 series for higher clock rate. The list also gives an important detail about 4 core, 6 core, and 8 core models. This seems AMD will be having the 6 Core 12 Thread variants in the manufacturing list, with 4 Core 4 Threads and 8 Threads and finally the higher end with 8 Core with 16 threads.