Animal Crossing: Pocket Camp Chart Details Rustic Villager's Resources, Resource Timers
Seven new villagers joined Animal Crossing: Pocket Camp earlier this week, bringing along the new rustic personality style to the mobile game. Of course, new campers means new ways to grab resources, and each camper has a different favorite present to hand over to campsite managers. Luckily, one Reddit user is helping players figure out the new rustic campers' resources with an infographic reference guide.
The chart, organized by Reddit user GrokNotMock and based off a design from fellow Redditor kimvoslice, features details on villagers' personality styles alongside the resources they prefer to give out. With the new update, there's now five personalities in total: natural, cool, sporty, cute, and rustic villagers. Meanwhile, the same five resources as before continue to be available from campers. Those are cotton, steel, wood, preserves, and paper. Each one can be used to craft furniture in the game, such as couches or tables.
With rustic villagers, the new seven additions to Pocket Camp generally prefer steel, wood, or paper. Check out the full chart below for more info.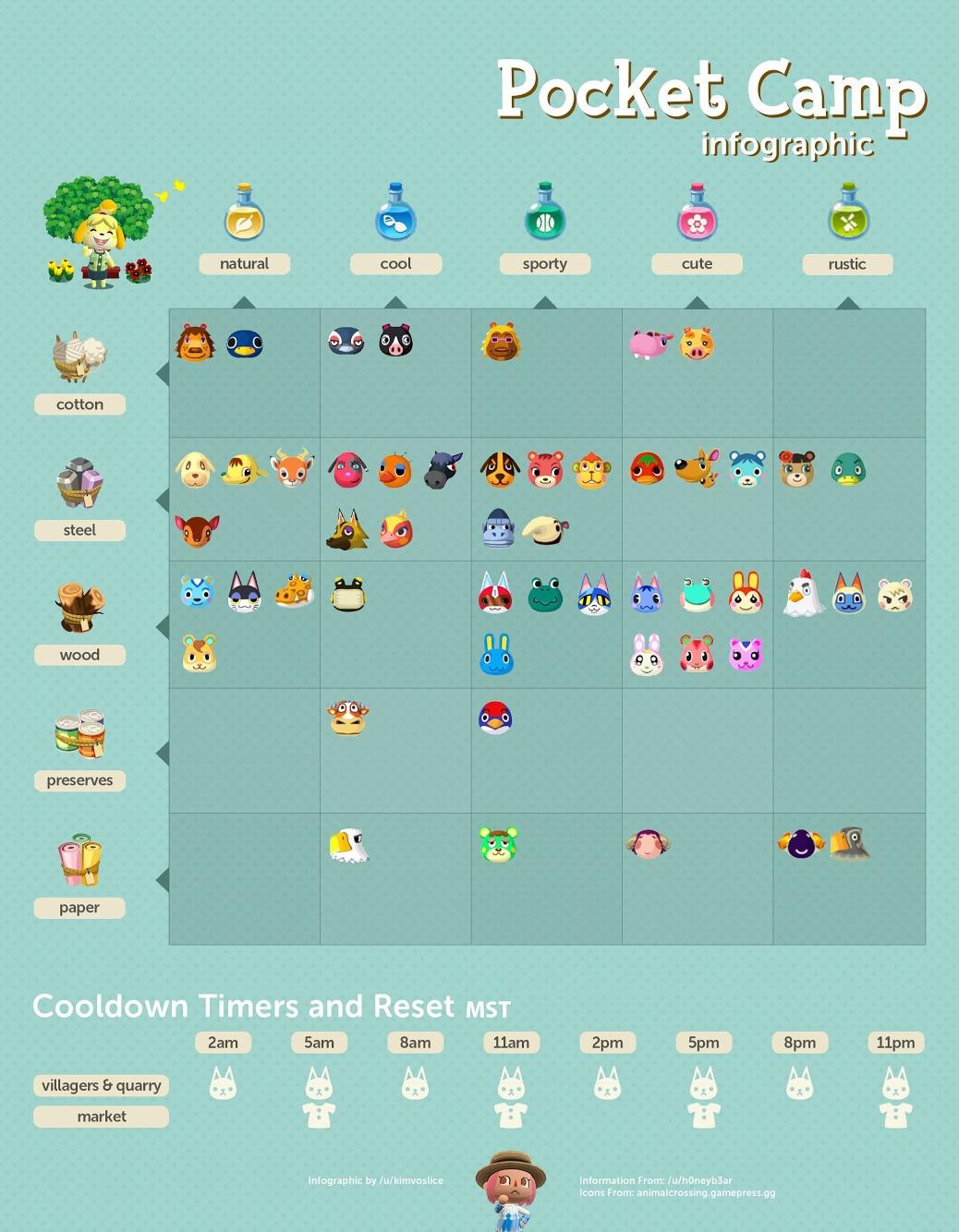 Remember, in Animal Crossing: Pocket Camp, preferred resources aren't necessarily the only presents you can receive from a villager. Instead, your campers just have certain raw crafting materials that they're more likely to give out than others. Lily the Frog, for instance, prefers handing out wood when you fulfill requests for her. But she can hand you cotton or steel too, among others. So when in doubt, always check in with your villagers' if you need raw crafting supplies, even if they don't necessarily prefer handing out the resources you need.
As a sidenote, the chart also gives cooldown and reset timers for Animal Crossing: Pocket Camp, showing when villagers rotate to new locations, the quarry restarts, and the marketplace switches shops. The times are all listed in MST, so if you need to convert the data to your timezone, you can use an online converter.
In the meantime, check out our guides to starting your own garden and watering your friends' gardens in Pocket Camp. And don't forget to explore the game's holiday event before 2017 ends.